The Rise of the School Safe Space
Safe spaces are becoming more prominent as students seek out peers who share their beliefs.
Hang on for a minute...we're trying to find some more stories you might like.
The only harsh thing about eighth grader Red Scanlon is the double piercing at the edge of his left eyebrow. A soft-spoken, androgynous kid, standing in a science classroom at Smith Middle School, he surveyed the dozen or so members of Diversity Club. Several were stretched out on their stomachs making posters while others sat a desk nearby using iPads to put together a slideshow. Their project focused on LGBT inclusion, and the group would later present it to school faculty.
Science teacher Teresa McCormick helped Scanlon establish the club. For him, it is what's known as a safe space, a place for marginalized individuals and their allies – people who offer support and acceptance but do not identify with a minority – to communicate their experiences and feel confident they will not encounter discrimination or harassment.
"I don't have any self-hatred as to why I didn't find out that I was transgender earlier," Scanlon said. "I just didn't know then. I questioned my gender and I went through different pronouns. I went from she/her to they/them to he/him over the course of a year."
Transgender is an "umbrella term" for people whose gender identity doesn't match the sex they were assigned at birth, according to the Human Rights Campaign. In 2016, the Williams Institute reported that approximately 0.6 percent of the U.S. population identifies as transgender.
"When I was in elementary school, I would only shop in the boys' section," Scanlon said. "A lot of people said I looked like a boy or thought I was a boy, but I didn't mind that at all. I don't know if that was just me not caring or that I liked it. But I didn't mind it."
In her book "Mapping Gay L.A.," scholar and activist Moira Kenney traces the concept of the safe space to LGBT bars in the mid-1960s. The term has since become synonymous with an ongoing debate at schools across the country about the scope of freedom of speech when it comes to language that can be considered hurtful or hateful.
According to a 2016 Gallup poll, 78 percent of college students believed their campuses should work to create an intellectual atmosphere in which they would be exposed to a range of ideas and points of view. However, 69 percent said they supported limits on freedom of speech when what was said purposefully insulted people of certain backgrounds. Nearly a quarter of respondents noted that "colleges should prohibit biased or offensive speech in the furtherance of a positive learning environment."
The Gay Straight Alliance at Troy High is another example of a safe space.
"'Safe space' has a lot of stigma around it," senior Lois Hwang, one of the leaders of the Gay Straight Alliance, said. "It's a word that has a lot of negative connotations to it, but it's actually a great concept. It's a place you can go when you don't have anywhere else to go. Safe spaces can accommodate you both physically and mentally."
According to a 2011 study by the National Center of Transgender Equality, 82 percent of transgender youth said they feel unsafe at school. When Scanlon first passed out Diversity Club flyers, he said he "was prepared for hate."
"I was really careful about who I handed them out to, so I didn't hand it out to people I don't trust," he said. "Then people were just taking it off my desk and ripping it up, right in front of me. I've been wanting to do this for a while, and it's like, if they don't understand it, then why immediately go to hating it?"
Some critics of safe spaces say that a reprieve from disagreeable or distressing dialogue minimizes open-mindedness and prioritizes liberal ideology.
"I think they're unneeded," senior Alec Mayer said. "They're very common in college and by that age you should be able to handle yourself in conversations. There's really no need for safe space. If you disagree with something, I think you should probably talk it out instead of hiding from it."
Different iterations of safe spaces exist, such as the Muslim Student Association.
"We have one common factor, which is religion, and it's surprising how much it bonds us together," sophomore Huzaifa Rabbani said. "It's almost like a safe haven for all the Muslim people in the school. We're here to support each other. There's everything going on in the media, but there's a safe place for you here at Troy High."
In one year, anti-Muslim hate crimes in the United States rose 67 percent, from 154 incidents in 2014 to 257 in 2015, according to the FBI's latest Hate Crime Statistics report.
"There's a very misused word in our language, Allahu akbar, which means 'God is greatest,' but it's been used so disgustingly by these people that want to instill terror into our country," Rabbani said. "People say it to scare other people, which is kind of sad because it's saying 'I believe in God,' then everyone gets scared."
After President Donald Trump was elected in November, many universities began offering safe spaces. During a five-hour span on Nov. 9, students at the University of Michigan-Flint received several emails about "Post Election Support, Safe Spaces and Counseling Services." In Ann Arbor, the organization Students4Justice staged a walk-out protest on Nov. 16, calling for the campus to "be a place of sanctuary" and asking the school to "double its commitment to rejecting racial harassment and protecting its students of color," according the list of demands released by the group.
In response, some conservative students began to request safe spaces of their own. A recent article in the New York Times featured Amanda Delekta, a sophomore at the University of Michigan and political director of the College Republicans, who wrote an open letter entitled #NotMyCampus and circulated an online petition condemning the post-election protests. She accused Mark Schlissel, the university's president, of favoring liberal students by implying that "their ideology was superior to the ideology of their peers," according to Delekta. She was later invited to meet with Schlissel in his office.
"I think everyone needs to have that spot where they can get away from it all for sure," senior Neil Vaishampayan said. "One of the great things about our country is that we have so many various opinions. I personally don't think it's necessary because at some point we have to accept the results of the election and move on together as a country. If you completely isolate yourself from everything then you won't be able to appreciate the other side or actually make an educated decision on what you truly believe."
Back at Smith, members of Diversity Club squabbled a bit about who would do the talking during their presentation to administration- public speaking can be nerve-racking, and most of them had minimal to nonexistant experience with it. Eventually, it was decided that Scanlon and another eighth grader would handle the oratory. One younger student looked particularly relieved.
"I figured it out," Scanlon said. "I didn't like dolls. I caught spiders. That was my thing. When I was younger I never really liked dresses, but I'll look at pictures and say, 'Oh, I look cute in that dress.' It's not embarrassing or anything because I'm just me now."
As a freshman, Scanlon plans on joining the GSA next year. Hwang had advice for him.
"A lot of people are going to stop you from being you, but you've just gotta find the community where people accept you for who you are," Hwang said. "Be proud of who you are. It's great that you're finding out who you are, [but] you've gotta be smart about it because you can spend the rest of your years here trapped. We're not completely out of the woods yet, you know?"

About the Writers
Leah Graham, Editor
Junior. Editor. Twin. Sarcastic with good intentions. Skeptical optimist.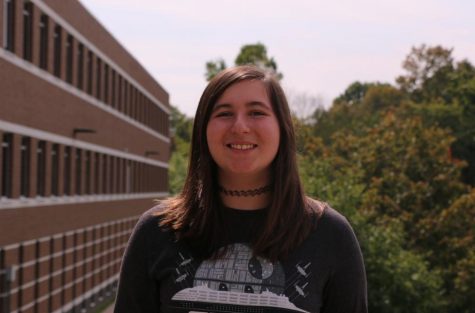 Kendyl Gatzemeyer, Staffer
Kendyl Gatzemeyer, junior, is Entertainment Editor during her second year on staff. In addition, she is co-president of Troy High's GSA club. A couple of her interests include metal/grunge, horror movies and watching Netflix.