'Hope Will Never Be Silent'
Looking back on nearly 48 years of fighting, we have come too far to stop now.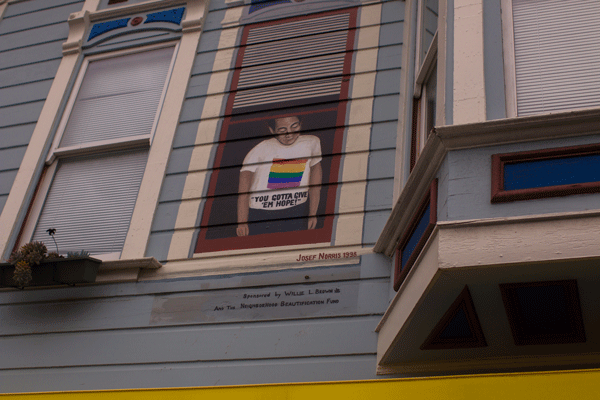 Hang on for a minute...we're trying to find some more stories you might like.
On Feb. 22, the Trump administration revoked all federal guidelines allowing transgender students to have the right to use the bathroom of their preferred gender identity in schools, an act signed into law by President Obama in May 2016. Following this decision, many people from across the nation were outraged. A sense of hope had been diminished. A sense of hope that has fueled a movement – a fight – for nearly 48 years.
The movement, known as the gay liberation movement, is mostly nonexistent in mainstream history. That is, until 1969, when, an unannounced police raid took place at the Stonewall Inn, a gay club in New York City. Police barged in, guarded doors and forced men and women into lines. Many were asked to reveal their gender identity by stripping naked, and those who were caught "crossdressing" were arrested. The following three days and nights, streets were flooded with people of and for the movement chanting "we shall overcome" and "gay power." Signs were held and police cars were burned from people demanding respect and representation.
Cleve Jones, one of the many who participated in those riots told motherjones.com on Dec. 6, "People who say violence doesn't accomplish anything have not read history. I don't celebrate that reality, but there you have it. All of these things help you build your movement toward your eventual goal."
The gay liberation movement had begun, and shortly after, it found a leader: Harvey Milk.
Milk was the first openly gay politician to be elected to public office in California. Both in life and in office, Milk fought for equal rights for all genders, sexualities and races. He represented the Castro district, one of the nation's first gay villages. His voice, loud and proud, was with him until his last day, when a homophobic coworker murdered him. His message and story have inspired generations of people who continued to fight for change. Though change was made, many things remain stagnant.
People continued to speak up for inequality and injustice. Following the efforts of Harvey Milk, the fight for the right to marry ended victoriously on June 26, 2015. The Supreme Court finally ruled that  same-sex marriage  legal for all.
When you look at all that has been done, at where we are, it's incredible just how much progress has been made, but it is certainly not all that can be done. For years, same-sex marriage was the main battle of the cause; yes, we won that, and yes, we have made a difference – but we can not stop there. There is so much more to be done.
GLAAD President Sarah Kate Ellis told The Daily Beast, "We must not only advance policies. We must also accelerate acceptance of the LGBT community—because laws alone won't end discrimination, people do."
Gay marriage is not the end of this fight. The community still needs change, a lot of it. We still need women's rights, especially for the lesbian and bisexual female community. We need equal rights for all races. We need transgender rights and representation. We need to make change.
On Feb. 22, President Trump tried to halt the movement. But he didn't. And he won't.
We will keep fighting.
In late March, Gavin Grimm, a 17-year-old transgender boy, was scheduled to stand before the Supreme Court to fight for transgender rights. His fight has been made public and many people across the country have been supporting him on social media. Following Trump's reversal of the federal government's position on transgender rights, the Supreme Court decided to no longer take the case. The case would have been the first relating to transgender rights.
"Thousands of transgender students across the country will have to wait even longer for a final decision from our nation's highest court affirming their basic rights," Sarah Warbelow, the legal director of the Human Rights Campaign told the New York Times.
Though this was a major setback in the fight for transgender rights for students, Grimm holds out hope for a better future telling The New York Times, "I will be fine. Regardless of what obstacles come before me, regardless of what hatred or ignorance or discrimination I face, I will be fine, because I have love on my side. This fight is bigger than me."
Some people say, "why are you still fighting, haven't you already won?" The answer is no. The fight is bigger, and for Grimm and so many others, it will continue. No matter what setbacks and downfalls we will face, we will rise. There is still so much more to hope for, to win. People deserve hope. They deserve equality and justice for all. That's what they were promised. That's what they deserve.
As Harvey Milk said, "Hope will never be silent."
We've got to give them hope.