Events Spotlight Culture, Immigrant Communities
In addition to recent protests and a documentary filmed on campus, showcases celebrate various traditions and customs as well as heritage throughout southeastern Michigan.
Hang on for a minute...we're trying to find some more stories you might like.
A heavy duty camera panned to show the dozen students arranged in a circle of desks. One by one, they looked into the lens and introduced themselves. The first question posed was an icebreaker of sorts: where do you call home? The answers varied: Japan, China, Albania, Pakistan, Korea and Troy. Moderators recentered the conversation intermittently if it digressed from the topic of interest- the experiences of first and second generation members of immigrant families.
Junior Alisa Young was born in Japan and moved to the U.S. when she was young.
"I've had this experience where I go to Japan and talk to my Japanese friends," she said. "They'll tell me, 'Wow, your Japanese is so Americanized, you have an accent.' Sometimes I find myself using Google Translate for certain words I don't know because I've become accustomed to English so much that I've forgotten a lot of Japanese words. I think it's good to keep in touch with your other culture once in awhile just to keep up with it."
The dialogue was filmed for a documentary facilitated by the Council of Asian Pacific Americans and funded by a $25,000 grant from the Michigan Humanities Council.
Southeastern Michigan has a large population of foreign-born residents, and, according to the latest census figures, Troy has the second highest percentage in the state at 27.7 percent.
Many clubs, both official and unofficial, celebrate the cultures of these different communities. The school chapter of CAPA organized the filming session. Other events, such as the Troy Social Justice Project's annual Culture Show and the Indian American Student Association's Tamasha: The Spirit of Celebration, spotlight the variegated heritage and customs of the student body.
IASA's competitive dance team Troy Zahara performed at Desi Tashan on Friday, March 3.
"It's a healthy competition between the different schools of our region," IASA board member junior Ethan Lazrado said. "There's also a larger circuit in colleges, so this funnels us into that."
Zahara won first place in 2016. This year, seven teams competed in the event at Northville High School, but Zahara didn't place. Tamasha, IASA's next event, is a showcase of various Indian dances on March 30. Sophomore Justin Jones will perform two dances, Bhangra and Raas.
"Raas is a traditional dance form," he said. "Bhangra is a Punjabi dance that was originally meant to celebrate the harvest in India, and now it's a very energetic, lively dance that a lot of people enjoy seeing."
The IASA board, a leadership panel composed primarily of upperclassmen, handled the logistics of the show.
"Preparing the IASA show is a lot of work because we have seven different dances in the show," Lazrado said. "We need to make sure that every dance is show-ready and each dance is eight minutes long, so it's a lot of preparation. We also have to check up with each dance to make sure they're on track."
Junior Kamal Kadari is the choreographer for the South Indian dance.
"It's different from the others because all the others are just traditional dances, but South Indian has a hip hop element and has American culture mixed into it," he said. "When I'm making the mix, I like mixing the Indian dance and hip hop dance moves into one. My main focus is to expand the Indian culture by teaching Indian dance and hip hop and mixing them into one."
Of Troy's immigrant population, about 25 percent of foreign-born residents are from India, according to the U.S. Census Bureau.
"My parents had a job lined up for them here," sophomore Harsh Narayankar said. "Immigration doesn't have that big of an effect on the community because not everyone is bad."
According to a 2015 study from the Pew Research Center, 45 percent of U.S. adults said immigrants are making American society better in the long run while 37 percent said the opposite.
In response to a recent spike in anti-immigrant sentiment- the Southern Poverty Law Center counted 280 cases of harassment or intimidation in the 10 days after the Nov. 9 election- "A Day Without Immigrants," a dual boycott and strike, was staged on Feb. 16. Many immigrants across the country stayed home from school and work for a day to protest President Donald Trump's crackdown on illegal immigration and his latest executive order to curb travel from six Muslim-majority countries.
"My parents moved here to get a better life for us because we wouldn't have had the same rights in the Middle East," sophomore George Azar said. "I like Troy because it is so culturally diverse, so you could have a class of like thirty people and you could have 95 percent of them be a different culture than you. Troy High wouldn't be Troy High without immigration. If it was all one ethnicity, no one would really learn anything cultural-wise because everyone would be the same."
A 2016 poll from Vox and Morning Consult reported that "Americans' views about immigration differ substantially according to where the immigrants are from; immigrants from Europe and Asia are viewed much more positively than immigrants from Africa and Latin America, and immigrants from the Middle East are viewed least positively of all."
IASA was also involved with the Troy Social Justice Project's annual Culture Show, along with the Middle Eastern Student Association. The show took place on March 16 in the auditorium.
"It's fun to see how people integrate their culture into American culture, to show that even though we all live in America, we still bring our cultures with us," sophomore Prisha Grover said. "It's a combination of dances and performances from cultures around the world. I guess with all the tension going on right now, and because ours is about Middle Eastern culture, it's kinda cool to see that it's not all just what we see in the media."
The show included a variety of acts, such as KPop groups, slam poetry, Italian opera and traditional Chinese dancing. Freshman Gina Moy performed American Sign Language.
"This is the first time in the entire history of Troy High that there has been someone performing sign language," she said. "The Cultural Show is where many people can just share what they love about their own culture, share their beliefs and their values and what they love about it in their own way. There's dancing, there is poetry, whatever you want, as long as you express your love for your culture."
Back at the CAPA documentary filming session, senior Jesse Yin identified with Young's anecdote about Americanized language.
"Growing up my first words were in English, which is really weird because my whole family is Chinese," he said. "I think it's because I watched so much TV. It's something that's pretty scary because it's so easy to be able to just lose your culture because you're surrounded by so much outside influence. Keeping in touch with your culture is something you have to work at."

About the Writers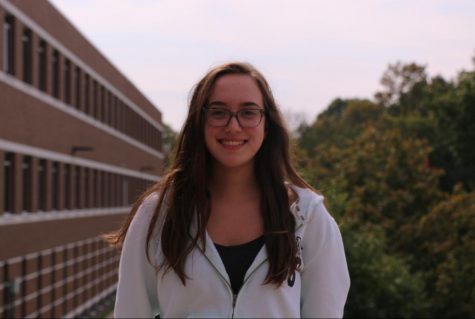 Tracy Cabej, Design Editor
Tracy Cabej, senior, is in her third year on staff. 
One of Tracy's many passions is writing, and she has won three awards from MIPA. Tracy loves that her writing is published and out there for her classmates to see, and she is ambitious and hopes to one day have a bigger audience. She wants to write a book in her life and is working at that goal everyday. 
Tracy hopes that her writing touches people and is very excited for the upcoming school year.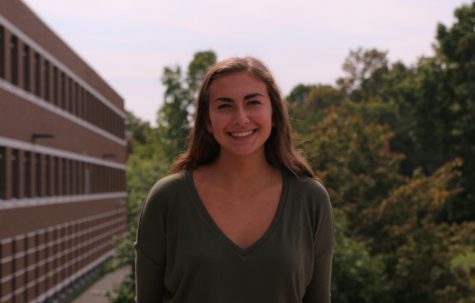 Gabrielle Francois, Editor-in-Cheif
Gabrielle Francios, senior, is Co-Editor in Chief, and has been on staff for three years. She is 17 years old and is a member of the Troy Colts Varsity Softball team. She enjoys reading, playing sports and spending time with friends and family outside of school.