Students Not Going to College After Graduation
Hang on for a minute...we're trying to find some more stories you might like.
As the school year comes to a close, seniors are making the decision to either further their education or pursue alternative options. According to the Bureau of Labor Statistics, 69.7 percent of high school graduates in 2016 continued their education in colleges or universities, while 30.3 percent did not.
Instead of pursuing college straight out of high school, senior William Sherwood enlisted in the military, the first person in his family to do so. He enlisted through the Delayed Entry Program, which includes an agreement for a recruit to begin active duty.
"[In the DEP] you have to go into meetings and stuff," Sherwood said.
Sherwood is going into the Advanced Electronics Computer Field in the Navy.
"I'm going into AECF, which is where you work with missiles and other [munition systems]," Sherwood said.
Sherwood said his family and friends are supportive of his decision, but they are also nervous. Sherwood is nervous as well but said he is looking forward to it.
"You get to see the world," Sherwood said. "You get to travel. Overall, I think it's a good experience."
In order to become a part of the military, Sherwood took a test called the Armed Services Vocational Aptitude Battery, which decided what job he would be chosen for.
"Be prepared for [ASVAB], and know what you are getting into," Sherwood said.
After his period overseas, Sherwood plans on going to college as the military will pay for his tuition.
"I want to do physical therapy," Sherwood said.
He plans on talking with his friends and keeping in touch with them through social media when he is away.
"I'm going to miss the people," Sherwood said. "That's what made my experience at Troy High- the good friends that I have."
Another option for students who opt out of going straight into college is the ability to take a gap year. Senior Alisa Chen is going to study Mandarin Chinese at Wenzao Ursuline University of Languages in Kaohsiung, Taiwan. Chen is going on a State Department scholarship funded by the National Security Language Initiative for Youth, which pays for students to learn languages abroad.
"I really love learning Chinese and meeting people who are also studying abroad," Chen said. "Yes, I'm Chinese, but people aren't born speaking any language fluently."
Chen said that she is excited because she is getting to do something she is passionate about.
"My college acceptance is always going to be there, but to study a language intensively for one year isn't," Chen said.
Before Chen goes to Taiwan, she plans to spend the summer volunteering as an organizer for the political campaign of Haley Stevens, who is running for Michigan's 11th congressional district against Republican incumbent Dave Trott. After that, she will start at the Student Conservation Association in early July in Alaska. The SCA's mission is to create the next generation of leaders. While there, Chen will be doing trail maintenance as well as environmental science work.
After her gap year, Chen plans on attending Reed College in Portland, Oregon, to study political science and international relations.
Some students may also choose to work after graduating high school. Senior Noni Fenderson is planning to work before attending college.
"I had the opportunity to start at ​the Oakland Technical Early College," Fenderson said. "I was able to [get a head start] through high school. It is a lot cheaper than attending cosmetology school. It gives me more time, so right after high school I can just go in and start working."
Fenderson said that although she plans on getting her cosmetology license, she also wants to attend college in the future to earn a business degree so she can open her own salon.
"I have liked doing hair my whole life," Fenderson said. "My aunt is a cosmetologist, and I'm really good at it. I like doing it in my free time."
Fenderson works at Salon Detroit in downtown Detroit shampooing hair. She is planning on shadowing her cousin, who is a stylist there.
"There is nothing wrong with not wanting to go to school," Fenderson said. "Eventually, you'll get where you want to go. You just have to put in the work, make smart decisions and do whatever makes you happy."
About the Contributors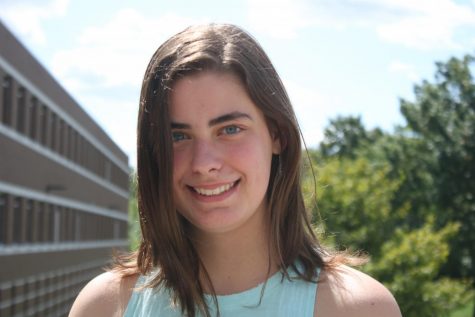 Kaitlyn Piggott, Print Editor-in-Chief
Kaitlyn Piggott, senior, joined The Chariot when she was a freshman as a staff writer and has since climbed the ranks from sports editor, copy editor to now print editor-in-chief. Through The Chariot, she uses her passion of writing to bring a voice to the school and shed light on topics close to her heart. When she is not tirelessly editing stories or working on spreads, she can be found writing her many dystopian novels, reading every John Hart book there is and watching way too much "Supernatural" with her brother.