America Experiences Terrorist Attacks
Mass shootings and terror attacks have occurred in multiple locations all over the country, including Nevada, New York and Texas.
Hang on for a minute...we're trying to find some more stories you might like.
In the past two months, America has experienced several tragedies, including a terrorist attack in New York followed by a shooting in Texas six days later. Prior to that, a gunman committed a mass shooting at a concert in Las Vegas. Although terrorist attacks have been taking place for much of history, they are now increasing in frequency.
On Oct. 1, Las Vegas was put into a frenzy as a 64-year-old man with no known terror group affiliations opened fire at a country music festival. CNN reported that at least 58 people were killed and nearly 500 injured. The shooting occurred at the Mandalay Bay Resort and Casino from a window on the 32nd floor and was executed by a man named Stephen Paddock, a Mesquite, NV resident. According to local law enforcement, Paddock had at least 23 weapons in his hotel room, some of which had scopes, devices attached to guns that improve the shooter's sight. After committing the "deadliest mass shooting in modern American history," as named by The Washington Post, Paddock died by a self-inflicted gunshot in his hotel room.
Less than a month later, on Halloween night, a terror attack took place in one of the most densely populated areas in the country. The New York Times reported that a Home Depot truck was rented and driven down a bicycle path in New York City, colliding with pedestrians, cyclists and a school bus. The driver was a 29-year-old Uzbekistani man who moved to NY in 2010. He waved a fake weapon and was shot in the abdomen by police. The act killed eight people, and some believe it was an act of terror. A note found near the scene tied him to ISIS, according to CNN, and many witnesses heard the man exclaim, "Allahu akbar," which is Arabic for "God is great."
Senior Lyndsey Gu applied to Columbia University's binding Early Decision program. Columbia is located in the upper west side of Manhattan. Though the attack has frightened many, Gu remains confident in her choice to apply.
"Bad things happen everywhere, and I wouldn't let one isolated incident prevent me from living somewhere I've loved my whole life," Gu said. "I'm not really concerned because there are millions of people and stuff happens in big cities."
In the small town of Sutherland Springs, Texas, a man named Devin Patrick Kelley murdered 25 people and an unborn child during a church service on Nov. 6. Sutherland Springs has a population of 643 people according to the Dallas News. This town is now mourning the massive loss of life. During the shooting, Kelley was wearing tactical gear and a gold skull-face mask while using a high-performance rifle, according to ABC News. Kelley had a criminal background and was said by his first wife, Tessa Brennaman, to have had "a lot of demons or hatred inside of him."
Freshman Jacob Alford moved to Troy around one month ago, leaving behind family in Sanger, a small town north of Dallas.
"I feel really strongly about [the shooting], especially since instead of thinking 'what can we do?', people are bringing a lot of politics into it," Alford said. "It does make me worried. In the little town I lived in, there was one church too, and I think of that all the time, especially now. That could've happened to them at that church, and all of the people that were there, they're like family."
These acts took 92 lives over the course of 37 days in multiple corners of America. Whether they come from inside or outside of the country, the death of these citizens is surrounding the cities with a sadness that has been shown through their families.

About the Contributor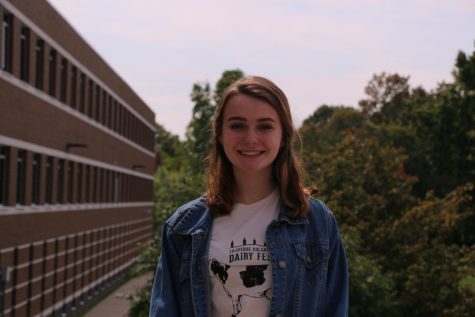 Sarah Funk, Business and Graphics Editor
Sarah Funk, senior, is a 17 year old who acts as business and graphics editor for the Chariot. Sarah is often mistaken for Pam Beesly from "The Office." She is addicted to shopping, loves to sew, has never been stung by a bee, is terrified of trampolines and owns three pairs of pink sneakers. In her free time she enjoys fighting with her sister who is part of the Troy High yearbook staff, watching Vines on youtube, or facetiming her boyfriend who is in the Marine Corps.  Sarah's friends mean the world to her as she doesn't have her driver's license and they constantly chauffeur her around. Sarah loves music, stand-up comedy and the color grey. She recommends the Glass Animals to anyone reading this.