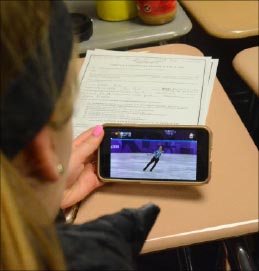 Photo by Natalie Suh
The Winter Olympics are being held in PyeongChang, South Korea. This year brings many new milestones such as an openly gay ice skater and the fact that the games are being held in a country where there is political tension. With these new changes, some students are making it a priority to watch the games this year.
Senior Noah Lobo enjoys watching the Olympics and used to be in the Junior Olympics himself for skiing and snowboarding, where he won silver medals.
"I am watching the Olympics this year because it's going to be super interesting," Lobo said. "We have lot of talent on Team USA, especially on the ski and snowboarding teams."
Senior Gigi Parks believes this year's Olympics offers many new things, which makes them more interesting than previous years' games.
"I am very excited to watch the Olympics this year," Parks said. "I know this year it is going to be held in a very controversial country, especially with the tension between America and North Korea."
The American figure skater Adam Rippon is the first ever openly gay figure skater to qualify for the Winter Olympics. Gus Kenworthy, who previously became the first openly out individual to compete in the Olympics, recently earned a spot on the American Freestyle Skiing team for the upcoming games. Lobo believes that the acceptance of Rippon and Kenworthy shows the progression of America.
"I think before, being gay was seen as something that is not normal, but as time is going on, it is [seen as] more and more normal," Lobo said. "I think it is super empowering to be openly gay and representing your country."
Senior Anna Patton has a personal connection to the Winter Olympics and says that the event is a big deal for her family. Patton's dad, Larry Patton suffers from cerebral palsy, making it hard for him to walk. For the 2002 Winter Olympics, Patton's dad was asked to carry the Olympic torch and walk a mile and a half through Detroit.
"That was really hard for him because he struggles with walking," Patton said. "He was the only one with a flame that was lit, so if he dropped it, that would be a big deal. He had a ton of pressure on him but he ended up doing it."
The Olympics are inspiring to many. To Parks, the Olympics represents hard work and achievements.
"The Olympics are where the best of the best compete, and it literally is the best display of how hard work and dedication can really pay off in the grand scheme of things," Parks said. "It truly is an inspiration to everyone."