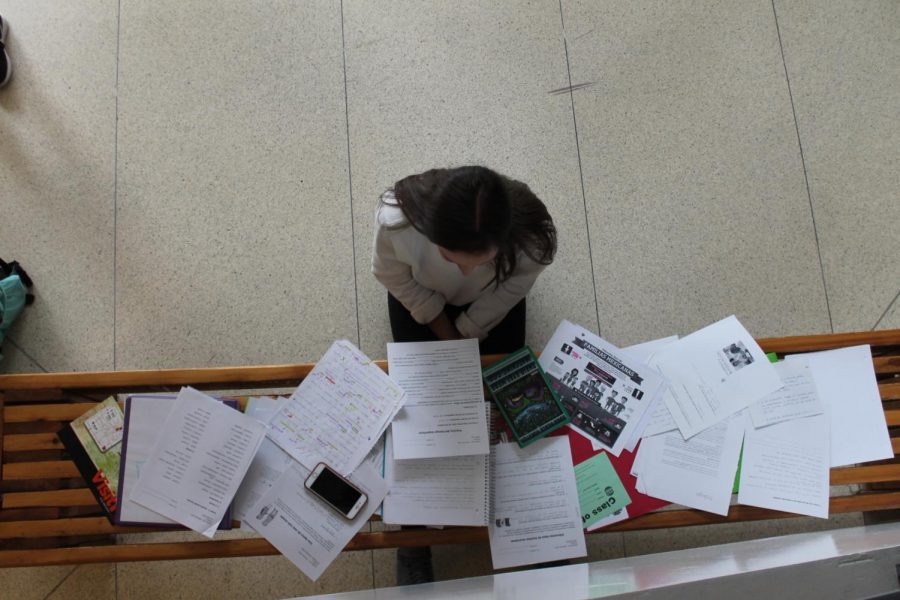 Annie Smuts
School has been in session for two months now and for some it can bring excitement and nerves, but others are already drowning in homework, extracurriculars and stress. Stress and anxiety presents itself in students for numerous reasons and may vary depending on the person. Pressures such as getting into college or high academic expectations are only some of the factors that play a role in a student's busy and possibly overwhelming schedule. This brings up the question of whether stress and anxiety is increasing in high schools.
According to psychologist and adjunct faculty member at Oakland University, Dr. Saba Maroof, it is unclear if anxiety is on the rise because of the amount of students coming in to receive help and the willingness of specialists to intervene.
"In the past 10 years, there has been increase in identification and recognition of anxiety in young people by health providers and a 17 percent increase in the diagnosis of anxiety disorders," Dr. Maroof said.
Many everyday events can lead to students developing an unhealthy balance of stress and anxiety. For sophomore Ahimsa Sathyakumar, she had her fair share of what she calls stressful activities.
"We just had homecoming and I was in charge of my grade's float building, the pep assembly and the powderpuff game," Sathyakumar said. "I also had all my tests that week so on those days I was literally going to bed at 3 a.m. and waking up at 6 a.m."
For student athletes, their days are also very time consuming, especially if they play two sports during the same season. Freshman Colton Follis plays soccer and hockey back to back every day and has been exposed to the extra stress of balancing sports and school work.
"I go to school, then school to soccer, soccer to hockey and then hockey doesn't end till 10:30," Follis said. "I then don't go to bed until around 11:45 because I have to do homework, too."
Troy High is a school known for its academic excellence, and many feel the pressure and difficulty with keeping up with everything.
"It's kind of hard not to meet the high standards because you feel like you're behind when compared to some other kids at the school, but in relation to other schools, you're not behind," junior Tarek Atasi said. "If people can't live up to the amount of APs that students around them take, then they feel even more behind."
During the school year, students find different ways to cope with their own daily stress and anxiety. For some, like senior Caroline Shabet, it is taking their minds off all the activities they have to keep up with.
"I usually try to hang out with my friends and relax," Shabet said. "Sometimes I cry because I get really stressed out."
According to Maroof, the first step is recognizing that there is a problem or a situation too big to handle, and when this happens, it can prevent further damage.
"When stress is not adequately controlled, it can lead to anxiety, withdrawal, aggression, physical illness or poor coping skills such as drug or alcohol use," Maroof said.
Both Atasi and Follis exercise, focus on their nutrition and play sports as a coping mechanism. Not only do they find nutrition and exercise an important aspect in life, but Maroof also stresses the importance.
"Eating regular and nutritious meals, drinking enough water, avoiding too many caffeinated beverages, getting enough exercise, spending time with your loved ones in person and taking some time out for some self care [is necessary]," she said.
The normalization of stress in school can be a problem for some students, and it is overwhelming even comparing their schedules with others.
"I feel like everyone just talks about how they go, go, go and how they went to bed at 2 a.m. [the previous night]," Shabet said.
In a recent survey taken by 185 Troy High students, the average amount of sleep that a student got was 6.4 hours. According to in other countries such as the Netherlands, teens get on average 7 to 8 hours of sleep which can be a significant improvement in the busy lives of some adolescentes.
In addition, with the amount of homework and extracurriculars some students have to keep up with, many teachers at school are somewhat flexible according to Atasi.
"I definitely think some teachers help," Atasi said. "For example, for the play and musical when we have tech week and are up until 11 practicing, some would usually lay off on the tests and homework that we would have during the week; teachers are generally pretty understanding, [but] some [are] better than others."
While the expectations and events students take on daily have many positive effects, there is also a balance that should be maintained.
"Extracurricular activities can be a source of stress, especially if one is doing activities for the sake of college applications and not for their own pleasure," Maroof said. "However, many important lessons can be learned outside the classroom, be it through an after-school part-time job or extracurricular activities. They are a great way to learn the value of persistence and kindle a passion for a non-academic interest, but I've seen that backfire and have seen teens that have too much unstructured time unable to utilize their time efficiently."
Sathyakumar agrees with this, and she also recognizes the importance and possible negative effects of these activities.
"I think some stress [of academics and extracurriculars] are good because later in life we'll deal with it when other things in life come up." Sathyakumar said.
According to the American Psychological Association, 61 percent of college students come to counselors seeking advice about their anxiety. This shows that this anxiety does not go away later on in a students life, and solutions to this such as coping mechanisms should be taken into account in order to ensure a stable mindset for the student.
Dr. Maroof emphasizes the value of spending time with family and friends will help to control students' stress levels. In addition, there are apps and websites focused specifically on stress and anxiety, and these will help control the stress individually, if consulting a professional is not a viable option at the moment. Not only will technology help contain the stress, but the traditional ways of relieving stress also prove to benefit students.
"Calm, an app I recommend to almost every patient I see, and others such as Headspace and Insight Timer can help you learn and practice deep breathing and relaxation techniques," Maroof said. "Community service and helping others is another great way to spend your time, plus you'll feel good doing it, and it may help put life in perspective."