Gender-Based Diversity In STEM
The Troy Chariot investigates the presence of gender-based inequities in various STEM fields and Troy High School classes.
With March being Women's History Month, many people are discovering the importance of gender equality, specifically with the mixed responses to the first female Vice President. Since then, the gender inequities in the United States of America have been placed under a magnifying glass, revealing that many fields — including those of science, technology, engineering, and math (STEM) — are brewing pots of inequality. 
In order to discover the STEM disparities present in the Troy School District, the Troy Chariot interviewed various students and teachers about gender-based diversity. Allison Wei, senior and President of She's the First, explains her views on gender inequality. 
"Gender inequality exists, and I believe we don't have to look far to see its effects and that it exists in many forms," Wei said.  "Just starting from childhood, girls are often socially pressured into certain fields, and because of that, they do face repercussions when they grow up into the workplace. Even in school, many times girls feel underestimated or feel that they have to prove themselves more compared to their male counterparts." 
Biology teacher Rachel Cervi adds her insight on how accessibility to STEM has progressed.
 "I think because people are talking a lot more about STEM and gender gaps in society and in the workplace, we're starting to address those gaps more, but we have a lot more work to do," Cervi said.
Chemistry 1 teacher Autumn Spiteri explains why she believes it's important to fill these gaps and encourage marginalized groups towards STEM fields.
"I think it is important because if women or other minorities do not 'have a seat at the table,' their ideas, thoughts, perspectives may be overlooked," Spiteri wrote. "Having a wide variety of people in STEM fields will encourage problems to be approached differently, different kinds of questions can be asked, and different solutions [can be] created."
Many argue that there is a visible gap between the representation of women in STEM fields like social sciences in comparison to those like chemistry and physics. In The American Association of University Women's article "The STEM Gap: Women and Girls in Science, Technology, Engineering and Math," a study from The U.S. Bureau of Labor revealed that men are significantly more represented in fields such as engineering and computer-based sciences. 
Physics teacher Ransom Brown describes how he sees gender-based gaps in various STEM fields, especially those that are considered to be more "analytical."
"I teach Physics II, which is a second-year physics class, and I have noticed that I don't usually have a 50-50 split," Brown stated. "I usually end up having more male students, which is something that we in the science department are always keeping an eye on, finding new ways to encourage our students to continue on in STEM fields." 
As Brown alluded to, gender-based inequality is present in STEM; however, there are steps that both students and teachers can take to battle these inequities. Cervi reveals some of the solutions that teachers can utilize.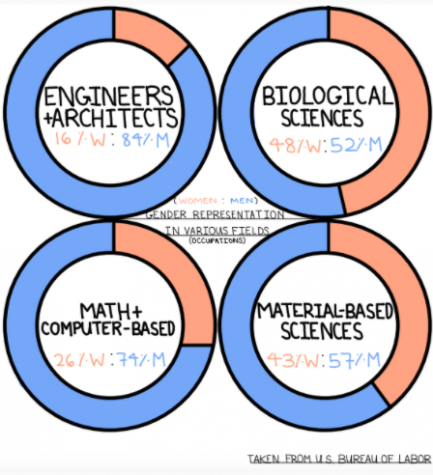 "A lot of it is about opportunities," Cervi added. "Any opportunity that is given to us as teachers that is available for our students, we need to present. Also, being there for a student who may have an idea that they want to continue with, whether it be a club or a general concept, we should encourage that idea and be their support system."
Finally, Wei explains how young women can put an end to gender inequality in STEM fields as well. 
"Do not be afraid to advocate for yourself and to stand up," Wei stated. "Embrace your feminine side and view that as a strength. Also, participation and advocating for yourself especially in the classroom because that's where a lot of this inequity starts: it's in the classroom and at a young age."
With inequality becoming more apparent, it is essential that the Troy School District takes steps towards gender-based equity. By learning more about gender inequality and partaking in difficult conversations, students and teachers can begin to push away from gender roles and create equality in all professions and school classes, even those in STEM.