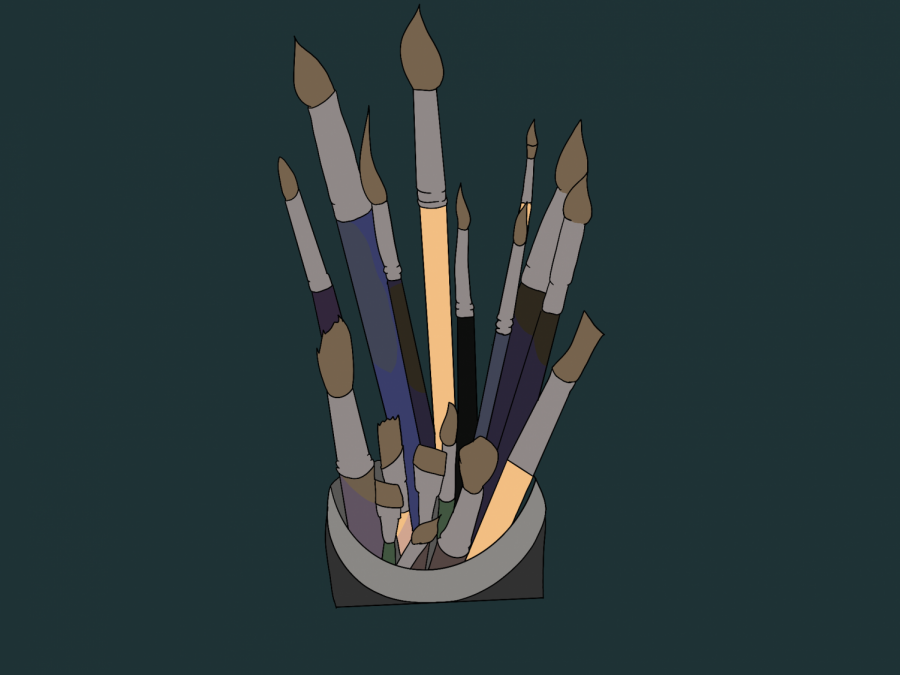 Luanni Ford
Having many students drawn to STEM (science, technology, engineering, and mathematics) at Troy High, art classes can be a good creative outlet for non-STEM inclined students. With the COVID-19 Pandemic, many students don't have easy access to traditional materials they would normally have access to in class. Even with the pandemic and the majority of the student body being online, many art teachers and students are trying to make it work. 
Junior Evangelia Kiousis, who takes studio art and advanced drawing, talks about pros and cons to in-person art classes. 
"I like how we can get more hands on when in person." Kiousis said. "But, I don't like having to rush to get the materials you want from the classroom." 
Kiousis also discusses the attitude she notices in the district toward art classes.. 
"I think that the district pays attention to art when it's finished," Kiousis said. "I've always heard from my art teachers that the supplies co
me from them personally and not the school." 
Senior Emily Hilenski, who takes Advanced Drawing, Advanced Computer Graphics and AP Art, speaks about having no real support in the art classes in the Troy School District. 
"No, I don't think that the school district does much to promote/support art classes," Hilenski said. "Even though the course guide lists many art classes, it 
seems that most of them aren't ever held because of low enrollment numbers — I have never seen a student encouraged to take an art extracurricular." 
Hilenski also hopes to see  more art classes appeal to students who aren't as artistically inclined.
"I would change the art curriculum to be more inclusive as an educational elective for non-art focused students." Hilenski said.  "I think that they should be adapted to better include students of all skill levels and grades and help them to individually evolve their art knowledge. If art classes at Troy High were promoted and encouraged 
more, and edited to be less traditional, it would let more kids pursue their creative endeavors in a way that is productive to them regardless of their chosen interests."