Summary of the Minions: Rise of Gru
A look into the anticipated new 2022 minions movie. Review and everything you need to now.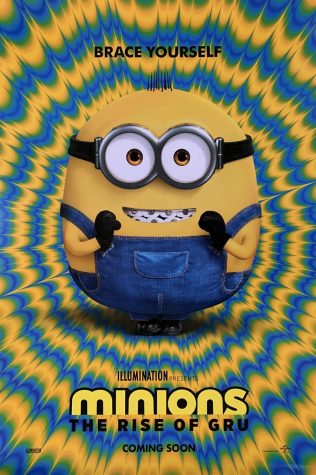 The Minions. 5 total movies featuring them, including the new movie, Minions: The Rise of Gru. This movie has been long anticipated since it has been 5 years since the Despicable Me 3 movie in 2017. Before going into this movie, the prior knowledge needed is that the minions are little yellow creatures that only want to serve an evil villain. They also communicate in a different way through their own language made up of gibberish. These minions also have been on Earth from the beginning of time which can be seen in the Minions movie from 2015. They had served a lot of evil bosses and villains but they finally landed under the service of Gru which is the main premise of the Despicable Me movies. 
This movie obviously follows Gru's childhood life from the 1970s as per the title. Viewers get that retro-feel throughout the movie. Gru, an aspiring villain, looks up to a group of villains called The Vicious 6. Kevin, Bob, and Stuart are the main minions of this movie as they were in the previous Minions (2015)  movie. They also included a new minion named Otto. This movie is funny and refreshing. The journey to find the kidnapped Gru lets light shine on the minions once again. Viewers can't help but to laugh and love the minions. This movie is not the type where you have to watch the previous movies to understand what is going on. It is a stand alone movie. This movie had bright colors and this exciting adventure that captured the attention of the viewers.
There wasn't a time where I was bored. I usually have a shorter attention span but this movie had me engaged the whole time. I really liked it overall and this movie is definitely one I will be rewatching. The characters of this movie are just so lovable it is hard to hate this one. However that being said, maybe my expectations were so high, but when the movie finished, I felt like something was missing. The lack of plot since they only followed the minions journey to find Gru. I enjoyed just seeing the personalities of the minions as they were put in uncomfortable situations. Nevertheless, and coming from a minion enthusiast, this movie is a must watch to see these fan favorite characters again.