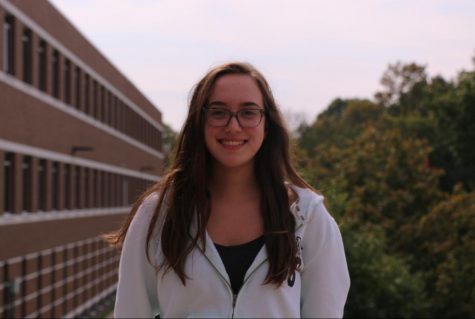 Tracy Cabej, senior, is in her third year on staff. 
One of Tracy's many passions is writing, and she has won three awards from MIPA. Tracy loves that her writing is published and out there for her classmates to see, and she is ambitious and hopes to one day have a bigger audience. She wants to write a book in her life and is working at that goal everyday. 
Tracy hopes that her writing touches people and is very excited for the upcoming school year.
Tracy Cabej, Design Editor
Apr 24, 2019

VIDEO: Frustration Mounts Over Parking Lot

(Story/Media)

Apr 17, 2019

Whatever The Weather, Snow And His Dad Walk Together

(Story/Media)

Mar 12, 2019

An Unforgettable Match

(Story)

Mar 11, 2019

The Sickening Effects of Technology

(Story)

Jun 04, 2018

Night Full of Stars

(Story)

Jun 01, 2018

Different Dishes During the Holidays

(Story)

Dec 01, 2017

Cross Country Makes a Comeback

(Story)

Oct 31, 2017

The 411 on Support 313

(Story)

Apr 27, 2017

Chronically Optimistic

(Story)

Mar 20, 2017

Events Spotlight Culture, Immigrant Communities

(Story)

Feb 14, 2017

Documentary to be Filmed on Campus

(Story)

Dec 19, 2016
Oct 31, 2016

Students Leave Campus for OTEC

(Story)

Oct 04, 2016

Strut Your Stuff: All the Latest in Fall Fashion

(Story)