Online Learning Highlights Technology Disparity among Students
Students and faculty share their takes on how the TSD can close the gap.
With a transition to online learning comes the necessity for stable internet connections, iPads, laptops, headphones, web-cameras and a myriad of other electronics. This virtual reality highlights the difficulties many students and staff alike experience with relying so heavily on technology. 
According to an article in The Washington Post, more than 21 million Americans do not have high-speed internet. This disparity, which The Washington Post calls "the homework gap," affects poor families and students of color the most. These issues, combined with the preexisting homework gap, cause an inability for students to access the things they need, while simultaneously being ignored or simply unrecognized by their classmates.
The Troy School District has made it a goal to provide students and teachers with the supplies needed to teach and learn virtually. Director of Technology Beth Soggs details what the TSD has done: providing iPads to all students and teachers, hotspots and internet deals to struggling families, providing iPad stands, Apple Pencils, and headsets to teachers and redesigning their help desk system to be more accessible, among other things. 
When compared to other school districts in the area, Soggs believes that Troy is excelling, and that the district is leaps and bounds ahead of neighboring districts. 
"In Troy we are doing a very good job because we have our iPad one-to-one initiative," she said. "Counterparts in other districts have been struggling to keep the 'have' and' have-nots' on an even playing field." 
While school district administrators are proud of how fast they were able to respond to the COVID-19 pandemic, they understand that there is a long way to go. Soggs and her colleagues believe that they have addressed most overarching needs of the district as a whole and are now beginning to shift their focus toward more personalized, specific assistance. In the meantime, they ask students to be considerate and understanding to the fact that the school administrators aren't in complete control of what happens. 
"There are so many variables that are out of our control, but everybody has the best interests of the students in mind, and it's not going to be a perfect world," Soggs said.
For students seeking help with their technology, assistance is available on https://www.troy.k12.mi.us/techhelp. This site includes contact information for the Troy School District tech help desk, troubleshooting guides, and status updates on Zoom, Schoology, the TSD website and Powerschools.
Although the Troy School District is doing what they can to support everyone in their care, some students question whether this is enough. Senior Jyothsna Musunur expresses frustration that some teachers are not being understanding when it comes to the tech problems students face, despite struggling themselves with the somewhat sudden introduction to zoom.
"Most of our teachers don't even understand how to work with what we have," Musunur said.
While some Troy High students are developing an "every man for himself" mentality in the face of these challenges, those who need extra assistance report feeling forgotten by their peers.
"These students have either been left in the dust or they've been pushed into the choice of being a part of the new hybrid program, because they're not getting the education they need from home," Musunur said. 
With cases of the coronavirus on the rise, many TSD students and staff are increasingly concerned about the hybrid learning option. For students who don't have enough access to the electronics they now need to support themselves (and those who just cannot learn effectively in an online environment), going back to school seems like the only way they can feel successful.
"I've known some of these classmates since I was 6 or 7 and they're struggling so hard to keep up… it's just an easier option for them to go back to school, but they are putting their lives at risk," Musunur said. "I don't want to see some of the biggest fears that I have realized because of that."
Soggs offers ideas for how students can assist one another. Children live in a completely separate world of communication from teachers and administrators, according to Soggs. Since much of the information sent out by schools goes over the heads of students and parents, students spreading resources among themselves would be more effective.
In the eyes of some students, the lack of face-to-face interaction makes this difficult. 
"I don't know how we could help each other, and obviously I want to but so many of us are just trying to get by in our own lives," said Musunur. "… The way that we have to move forward could change the course of our lives, for better or worse."
About the Contributor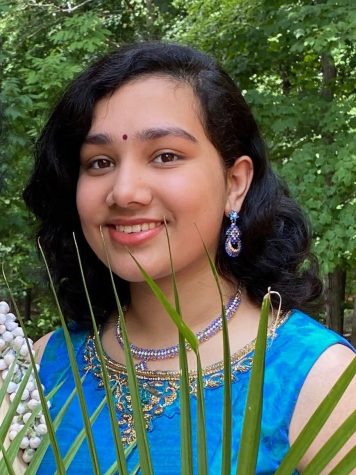 Anjali Sanil, Staff Reporter
Anjali Sanil is a sophomore and a first-year staff reporter. After recieving a recommendation to participate in making the school newspaper, she joined to explore writing about things she is interested in in a relatively free environment, to improve her writing and collaborative skills, and to have a unique experience with her fellow students. When Anjali has spare time, she enjoys making art in many mediums, being outdoors, and spending time with her family, friends, and pets.