Cervical Cancer Death Rates Higher than Anticipated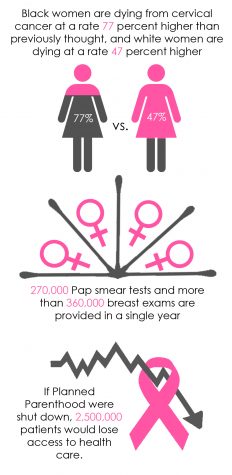 Cervical cancer death rates are higher than expected, according to a recent report released by the American Cancer Association. The new study accounts for women who have had their cervix or uterus removed in medical procedures and are no longer at risk for cervical cancer. Cervical cancer death rates for both white and black women were higher, but black women are still more likely to die from cervical cancer in comparison to white women.
The main cause of cervical cancer is the Human Papillomavirus (HPV), a common sexually transmitted infection (STI), that can be prevented through the Gardasil vaccine at a young age; however, just because someone has the vaccine does not mean they are immune from getting cervical cancer.
"Education is key, getting females to understand that if they are choosing to be sexually active, they need to be under the care of a gynecologist," health teacher Lisa Danhoff said. "Usually they recommend the age of 21 when the Pap smear test will look for abnormal tissue. Early detection is key. When it's too late the treatment then is much more invasive and detrimental to the human."
Pap smear tests are imperative when trying to recognize cervical cancer, but they can be expensive. Organizations like the National Breast and Cervical Cancer Early Detection Program as well as Planned Parenthood offer low-priced and sometimes free Pap smear tests. According to the National Public Radio, 79 percent of people getting services from Planned Parenthood were at or below the federal poverty level.
"It's just great that they offer so many things," senior McKayla Coplen said. "If people can get healthcare provided for them, its a great idea. If you defund them, you get rid of all that healthcare."
Planned Parenthood is a sensitive topic due to its place in the political world. The debate surrounding a woman's right to abortion has persisted through Barack Obama's presidency and lingers now in President Donald Trump's term. In January, Speaker of the House Paul Ryan said that Republicans plan to take away federal funding for Planned Parenthood.
"I personally would support that," junior Emmanuel Dannug said. "I'm not saying abortion is right or wrong, but that's facilitating something I don't agree with. I think there should be more restrictions with funding and accessibility to it."
Abortions are only 3 percent of the procedures conducted, according to the 2013-2014 Planned Parenthood annual report. The majority of procedures offered are for STD/STI testing and treatment, as well as contraception for men and women. They receive $500 million from the federal government, and under the Hyde Amendment, federal funds can only be used for abortions to save a woman's life or if the pregnancy was a result of incest or rape. According to the Guttmacher Institute, publicly funded clinics like Planned Parenthood prevented both 570,000 abortions and 1.7 million unwanted pregnancies.
"Abortion is taboo," senior Emily Endres said. "No one wants to talk about it. No one wants to fund it. Planned Parenthood gives easier access to critical health care, and if we take that away, we harm those in poverty."