Going the Extra Two Miles
Sophomore Abby Kerr moves to run on more competitive track and cross country teams.
Hang on for a minute...we're trying to find some more stories you might like.
During the summer before her sophomore year, while most of her friends were going to the beach and enjoying the warm weather, Abby Kerr was packing boxes. She was moving. Kerr went to Troy Athens High School as a freshman and had been looking forward to running track and cross country at a new level, but things didn't go as planned.
"I was the best runner as a freshman in cross country and distance races in track," Kerr said. "There wasn't anyone within two minutes of me."
Kerr decided she needed some competition. Then she was invited to join the top Troy High runners at the Nike Cross Regionals Midwest in Indiana. Only the top runners from the Midwest attend this meet.
"I had a chance to go to the Nike Regionals cross country meet with the Troy High team my freshman year and I really liked the girls on the team," Kerr said.
That's when Kerr said it clicked. She was having issues with the coaches at Athens and loved the girls on the Troy High team; she was going to transfer to Troy High in the fall.
When Kerr came to Troy High, she had to work harder than ever; the competition for varsity spots was intense and the schoolwork was more demanding.
"It's basically the same classes, but it's more challenging. The curriculum seems harder," Kerr said. "It's really humbling coming here and being low varsity and having a lot of people that are really fast on the team to look up to."
This year, Kerr was an alternate on the state cross country team and was able to attend the meet with the team. Though she was not able to run, she said she thought it was a great experience and hopes to run in the meet in the future.
"Training with her teammates over the winter has really helped push her and prepare her for the spring," girls track and cross country coach Matt Richardson said.
Kerr's teammates said her attitude and work ethic are what set her apart.
"She's a really good team person. She's very nice to talk to before the races because she's so 'I love cross country!'" junior Meghan Monaghan said.
Richardson continues to train her so she can compete at the highest level.
"She has already seen some improvements on the track, but I see it every day in practice," Richardson said. "Not every day is a perfect running day, and not every workout or race is perfect, but by persevering through the bad days and enjoying the good days you learn a lot about yourself and grow as a person."

About the Writer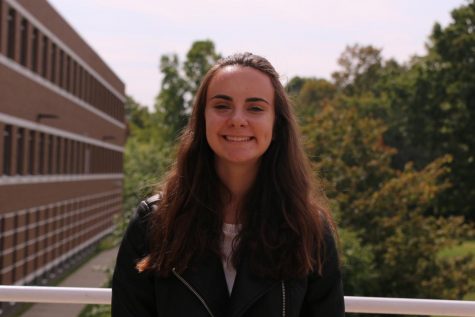 Annie Smuts, Editor-in-Chief
Annie Smuts, senior, is co-editor-in-chief and excited for her third year on staff. At the MIPA Summer Workshop 2018, Annie won the overall Edge-cellence Award for Taking Your Newspaper to the Edge, and at the NSPA/JEA Fall Conference, she won a Superior in News Editing. In her free time, Annie likes to hang out with friends, cook, write and run.