From Manager to Coach
Hang on for a minute...we're trying to find some more stories you might like.
After four years of serving as team manager for the football, basketball and lacrosse teams, senior Caleb Whiting is graduating and leaving his position behind.
"I started off in middle school," Whiting said. "I was the manager there, so I asked the coaches here and they told me since I had experience that they would let me do it."
Whiting began his career as the manager for Boulan Park Middle School's seventh grade basketball team.
"The basketball coach asked me if I wanted to do it, and I said yes," Whiting said. "That kind of started it all off. It was basketball first, then my eighth grade year I took on track and football too. I just wanted to be the most helpful I could be with the teams. And I love sports, so that also helped drive it."
As a team manager, Whiting is in charge of running the clock, keeping stats, managing inventory and setting up film equipment to record games.
"I get to feel like I'm part of something bigger than myself," Whiting said. "A lot of the kids that I've been with for the past four years, I keep in contact with. They respect me, they treat me like one of them, and that's just awesome."
Whiting's role is not always behind-the-scenes. This year, he was given a chance to play in a varsity basketball game.
"It was really cool to see a lot of the school come out," Whiting said. "We had probably our biggest student section of the whole year at that game."
The game was against Avondale High School and was played at home.
"Coach [Gary] Fralick told me the day before the game that I was going to dress," Whiting said. "He said he couldn't guarantee that I would play at all, but we were up by a lot, so with a minute and 30 seconds left, he called a timeout and put me in."
Troy High won that game 79-48.
"These last three years I've been the manager, seeing the seniors leave has been kind of a hard thing to do," Whiting said. "But this year it should be easier because I'll be one of them."
Whiting was awarded the first-ever Troy High Athletic Boosters scholarship for his service to the athletic department. He will be attending University of Michigan-Dearborn in the fall. However, the work he has done with Troy High's athletic program isn't quite over. Next year, Whiting plans to come back to Troy High, but this time as a coach.
"Right now, I'm set up as a football coach for next season, but I don't know about my other two sports yet," Whiting said. "I don't do my job because I want recognition, I do it because I love working with the teams."

About the Writer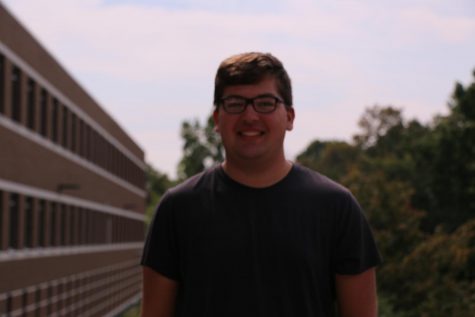 Jack Stromberg, Entertainment Editor/Illustrator
Jack Stromberg, junior, is the cartoonist and staff writer. This is his second year on The Chariot staff. He is involved in football, wrestling and volunteers regularly at I Heart Dogs animal rescue.