Marching In The Rain
Marching Band earns highest rating at MSBOA.
Hang on for a minute...we're trying to find some more stories you might like.
Every year, the Michigan Band and Orchestra Association (MSBOA) holds festivals that give high school marching bands the opportunity to perform their shows in front of a panel of judges. The bands are judged in three categories: marching, music and general showmanship. The bands receive a score ranging between first and fourth division with first being the highest.
This year, the Troy Colt Marching Band received a first division rating, a score that filled some of the band with pride.
"As a senior, it was really fulfilling to have such a complex and intricate show," senior color guard member Caeley Smith said. "Our MSBOA performance is the culmination of an entire season of hard work. It was exciting to share it with an educated audience of other high school bands."
Senior drum major Richard Yan was proud due to the obstacles the band faced prior to the performance.
"It was raining and cold, and juniors had gone through a whole day of testing," Yan said. "Everyone was pretty tired, and we still gave one of the best—if not the best—performance of the whole year. The band is, without fail, always pulling through."
This year's show, Regenesis, told the story of the phoenix from its downfall to its rebirth. Several members of the band were interested in the show's allegorical nature.
"This year's theme was by far one of the deepest," Yan said. "We wanted to tell the highs and lows of human life. We start when everything is going great, then it all comes crashing down with our darkest piece. It is chaotic, and you are thrown off by it. After that is a moment of support and acceptance from other people. You are raised up by the people around you. Then, there's an uplifting piece where everyone is in a line pushing forward together. It is a really powerful moment."
The color guard was featured throughout the performance, telling the story through movement and costume changes, beginning in yellow, then they begin to change to black, and end in yellow. Several members of the guard were particularly satisfied with their performance.
"The flags, choreography and the music were so powerful," Smith said. "We were all proud."
Band director Brian Nutting also chose to feature a vocalist and added American Sign Language (ASL) during the song "Beautiful" by Christina Aguilera.
"That was the most tender moment of the show," Nutting said. "When the vocalist sang, I knew the guard would greatly enhance it with movement and dance, but I wondered what else we could do to make it more impactful, and signing came to mind."
The performance as a whole left some with a feeling of growth and acceptance.
"We have all been challenged in life, and [the show] just says that we all belong and that we are all beautiful in our own right and deserve to be loved," Nutting said. "The way the band expressed that so beautifully—it hits home for everyone."
The band had been rehearsing the show for over six months, and for many, MSBOA was an emotional goodbye to marching band
"It was bittersweet," Yan said. "I remember sitting in the car with the other drum major and we were just speechless. We looked at each other like, 'where have the past two years gone?' I was trying to look at all the members' faces and remember them and moments with them. It has been a long two years, and it has been one of the best experiences of my life. Being able to lead such a great organization is something I will remember for a long time. It was a wave of bittersweetness."

About the Contributor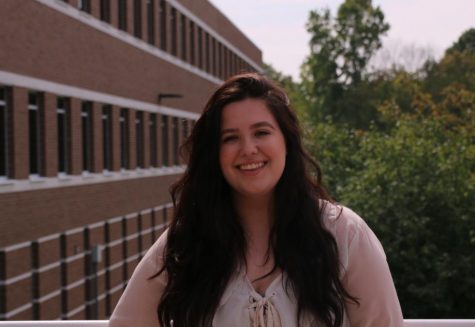 Bianca Bucholtz, Editor-In-Chief
Bianca Bucholtz, senior, along with being Editor-In-Chief is also Vice-President of the Troy Theatre Ensemble and a member of the Acapella choir. She joined newspaper as a freshman and is a proud member of the founding staff of The Chariot. Her biggest passion in life is telling stories and is inspired by the impact a single story can have. She loves getting to know students and learning what they are passionate about. She hopes to be either a journalist or a filmmaker to inspire people to grow and change through the power of storytelling.

She also loves annoying her friends by singing show-tunes, obsessing over superheroes and Harry Potter and her love for her Italian heritage. She enjoys both the color and singer Pink and making people uncomfortable by proving them wrong!