The 411 on Support 313
Club visits and plays with underprivileged adults and children in Downtown Detroit.
Hang on for a minute...we're trying to find some more stories you might like.
Senior Quinn Favret started a new club this year titled Support 313 where members of the club get the opportunity to make friends with the people of Detroit.
"Support 313 was founded on the basis that homeless people are treated in a very bad manner today," Favret said. "They're given lots of food and other essentials; however, they are not treated very well."
Instead of providing money or food, the members of Support 313 give their time and friendship.
Conventionally homeless people may receive food or money, but a couple seconds later, that same person who gave them the money or food, may be talking down to them. Favret wants to stop that.
"The emotional and mental support is not there, so when this organization was founded, we were trying to combat this and help them get a connection as well as a friend or buddy that can give them that support," Favret said.
Support 313 goes to Cass Park in Detroit every other Saturday morning to spend time with the kids and adults who are waiting for them.
"When we go down, we usually bring some type of food or activity, and we hand out the food and talk to everyone," said Favret. "There's actually quite a few kids there from age four up until eight, and it's really sad because they can't read. They don't have many games, so we bring coloring books, books, kites and rocket launchers. We focus in on them because we can help educate [the kids] and help prepare them for the future."
Senior Darius Feier, who is a member of the organization, said he goes to Detroit to help lift the residents' spirits.
"We spend time with them and just make them feel worthy—like they belong," Feier said.
The main goal of Support 313 is to become an accepting network for the homeless and to make sure that they don't miss out on opportunities that they feel everyone should be able to have.
"Going to Detroit is really great because I love helping out people that don't have the same opportunities and privileges as some of the kids at Troy High," junior Caroline Shabet said. "Having it so close to home makes it a lot more personal."
The members of Support 313 spend time with people who need it. The two hours that they spend downtown has the potential to make an impact on the people that they meet.
"Some of the kids look forward to us coming all week," Shabet said. "It's really great that we can create a positive environment for them and the other people in the park by just giving our time."
The organization takes a different approach than some other organizations and charities. Instead of providing food, it provides a face that the kids can count on seeing every other Saturday morning.

About the Writer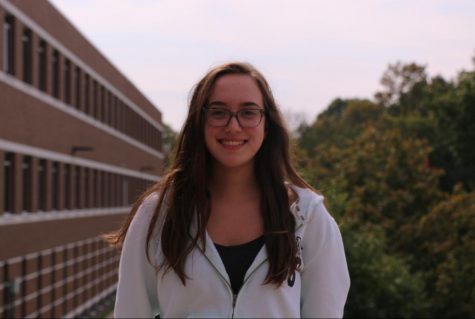 Tracy Cabej, Design Editor
Tracy Cabej, senior, is in her third year on staff. 
One of Tracy's many passions is writing, and she has won three awards from MIPA. Tracy loves that her writing is published and out there for her classmates to see, and she is ambitious and hopes to one day have a bigger audience. She wants to write a book in her life and is working at that goal everyday. 
Tracy hopes that her writing touches people and is very excited for the upcoming school year.