New Coach, New Era
Head coach Chris Frasier led the Colts to a 6-3 record in his first season.
Hang on for a minute...we're trying to find some more stories you might like.
Under the instruction of new head coach Chris Frasier, the football team has had one of it's most successful seasons in the past decade with a 6-3 record, earning the Colts their first playoff berth since 2009.
Frasier, who has put an emphasis on team bonding this year, says he strives to make connections with his players.
"My favorite part of the job is going to practice every day and interacting with the kids," Frasier said. "It's a less stressful environment than the classroom, and you get to know the kids on a more personal level."
This encouragement was crucial in the Colts' 7-3 win over Stoney Creek on Sept. 15, a moment that Frasier says defined the team. Junior wide receiver Will Flynn had an unfavorable start to the game, dropping a punt, but he was still able to help secure the victory with the winning score in the final minutes of the game.
"We told the kids all year, 'keep making plays,' and you've got to love Will Flynn," Frasier said. "We were down 3-0 all game, and he made a catch by his knees, juked two guys and scored a touchdown."
Such resilience also served the team well in their 20-19 comeback victory against Athens on Oct. 20. Down 19-13 with 24 seconds left in the game, junior quarterback Matthew Lenihan connected with senior wide receiver Givon Cinqué in the end zone to tie the game at 19. After a timeout from Athens to disrupt his timing, senior kicker Michael Abitheira came on to hit the game-winning extra point.
"It was just like a dream we had in practice during the two-minute drill," Cinqué said. "Matt Lenihan said hit and I was like 'Just throw it up, let's go get it,' and it was amazing that I caught it and came out with the win. It was wild that we made history and are going to the playoffs."
Several veterans of the team, including senior linebacker Ben Alexander, have noticed positive changes this year under Frasier's leadership.
"He tries to do more fun things like the midnight practice to get people to come out for the football program," Alexander said.
As an initiative of the new head coach, the midnight practice serves as a way to begin the season by having players practice under the lights and sleep in the gym after. This change among others has been a step toward building a different collective team spirit.
"I think our talent is better this year, but [Frasier] has brought us together and we're a lot more of a team," Flynn said.
Making an effort to hold more enjoyable practices for his players this season, Frasier worked to lead by example by getting onto the field himself and running plays with his team.
"Coach Frasier changed the culture a lot," Cinqué said. "He does everything that a coach should do, and he's just a good person in school and out of school."
While creating his own traditions, Frasier has not forgotten the rich history of the program, which includes a 1994 state championship.
"It's been a very successful program in the past," Frasier said. "We wanted to focus on our tradition by bringing back some of our legends and promoting the past success this program has had."
In addition to his internal goals for his team, Frasier has worked to strengthen the connection between his program and others. One of these new traditions he has begun is singing the fight song with cheerleaders and the band after a win.
"One of the things we stressed in the offseason was forging a relationship with them," Frasier said. "I've talked to the band's director a bunch this year to cement that relationship, and we've done some things with the cheerleading team like having a scavenger hunt with them. We're trying to make sure those relationships are strong."
This effort has resulted in what some see as a new era of school spirit.
"I think in his coaching we've found a new enthusiasm for the larger picture of what high school ought to represent," band director Brian Nutting said. "It's been a thrill to see the team charge the band after a game to sing the fight song. That's never happened in my 17 years."

About the Contributors
Liam Clancy, Editor-In-Chief
Liam Clancy, senior, is in his second year on staff. In addition to his work on the paper, he is a captain for drumline and an aspiring Indian dancer. Some of Liam's current life goals include founding a Spikeball club at Troy High, getting into college and buying a Big Baller Brand shirt. He is hoping to pursue an education in business or mathematics. He hopes that you will leave comments on his stories so he will feel validated.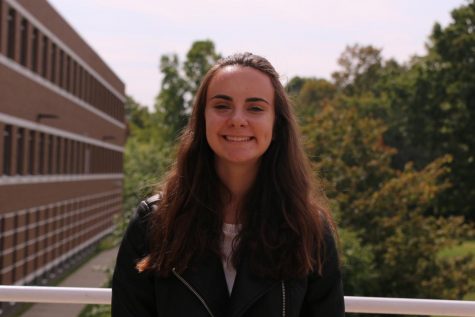 Annie Smuts, Body Copy Editor
Annie Smuts, junior, is excited for her second year on staff. In her free time, Annie loves to cook, run, box and read. At the MIPA Summer Workshop, Annie won the Excellence in Column Writing award and also won two awards from MIPA in the spring.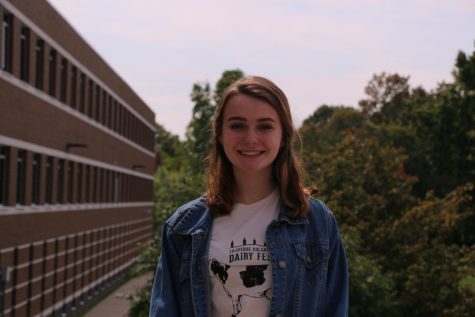 Sarah Funk, Business and Graphics Editor
Sarah Funk, senior, is a 17 year old who acts as business and graphics editor for the Chariot. Sarah is often mistaken for Pam Beesly from "The Office." She is addicted to shopping, loves to sew, has never been stung by a bee, is terrified of trampolines and owns three pairs of pink sneakers. In her free time she enjoys fighting with her sister who is part of the Troy High yearbook staff, watching Vines on youtube, or facetiming her boyfriend who is in the Marine Corps.  Sarah's friends mean the world to her as she doesn't have her driver's license and they constantly chauffeur her around. Sarah loves music, stand-up comedy and the color grey. She recommends the Glass Animals to anyone reading this.