Popular TV Shows of 2017
Fans of 'Stranger Things' and 'Riverdale' discuss the popularity of the shows.
Hang on for a minute...we're trying to find some more stories you might like.
Netflix made the decision to start releasing original content in 2013. With audiences ranging from teens to adults, "Stranger Things" has made the streaming service even more popular. Although not a Netflix original, originally airing on The CW, "Riverdale" also earned 960,000 viewers within its first season on Netflix, while "Stranger Things" earned 13,35 million viewers according to TV By The Numbers.
"Riverdale's" season 2 premiere on Oct. 11 was watched mostly by those 18 to 49 years old. It was also reported that the show's viewership has doubled since the season one finale in January 2017.
According to TVLine, 15.8 million viewers tuned in for the first episode of "Stranger Things" season two during the first three days of availability.
Many students are fans of both series and feel the shows bring something new to the television industry.
"Every episode brings new drama," sophomore Kate Gendruschke said. "I love 'Stranger Things' because of the unpredictability of it all. You are on the edge of your seat for every episode. I like 'Riverdale' because it shows issues that teenagers today actually face."
The young actors in both shows have enjoyed expanding fan bases. Some say that the cast of "Stranger Things" is a lot of what makes the show successful.
"My favorite thing about the characters from 'Stranger Things' is how lovable they are," Gendruschke said. "When you watch the show, you just want to be friends with all of them."
Others have made predictions for the next season as well.
"My prediction for season three of 'Stranger Things' is that Eleven and Kali will be forced to unite to help end Dr. Brenner because they will find out he's not actually dead," Gendruschke added.

About the Writer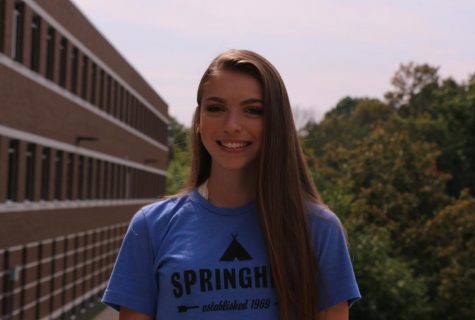 Samantha Fisher, Web Editor
Samantha Fisher, junior, has played softball since she was seven. Her other hobbies include photography, traveling and spending time with friends and family. This is her second year on staff. She really loves writing and is very much looking forward to another year on staff!