The Year for Cheer
Troy Cheer hopes to earn year on the championship banner.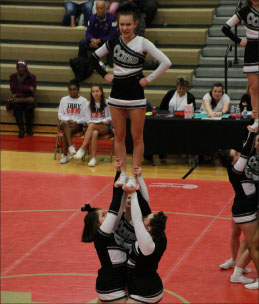 Hang on for a minute...we're trying to find some more stories you might like.
The cheer team is striving for the top of the pyramid in the Oakland Activities Association, winning several competitions this season. On Feb. 10, the Colts will be competing against White Division rivals at the combined meet at Athens High School. A victory would earn the team a league title and a championship banner in the gym. The team hasn't won leagues since 1993 and is looking to bring the title back this year.
"This will be a way of leaving our mark and making a statement," senior Emily Davis said.
Preparing for the competition consists of practice two hours a day every day of the week in the aux gym. Practices include working on stunting, tumbling and drilling. The team repeats these drills over and over again until they are perfected. Perfecting these skills requires teamwork and determination.
"We all bond together really well," sophomore Jennifer Fry said. "There aren't any separate cliques that are talking in little groups; we are all one big group."
The cheerleaders have been successful winning previously this year, and they have been working to earn more victories.
"Every competition we have set score goals," Davis said. "So once we achieve our scores for each of our routines, we create a new goal."
The team's main goal is to win leagues and get past districts. Coach Samantha Mularski says that winning leagues would be icing on the cake and believes her team has what it takes.
"They truly have heart," Mularski said. "It takes both talent and heart to be successful, and this team has them both. A team that works together, is a success together."
Before the team received their results, the ladies grew to fear that they might have received a penalty.
"We thought that we lost because we saw our score and we kept freaking out, and just sat there like we got second," said freshman Isabella Vernier.
After winning some of the team said that their league victory made all of their hard work over the season worth it.
"We all worked really hard the whole season," junior Amanda Soriano said. "It was a really nice feeling."
After their defeat, the ladies will soon be done their way to districts at Stoney Creek.
"We will still have the same routine if anything we will add clean up to the routine, we will add little things to make the rounds more interesting,"  junior Joanna Chang said. "Sometimes this could be harder because we could forget or have to get used to another thing."
As their sideline season ends all girls will make sure that this season is a one to remember and have fun with.
"Now the main focus for us is to make sure that we still try, and we have fun while doing it, and that we are still working together," Chang said. " At this point in the season everyone gets a little tired, and bodies start to hurt.

About the Writer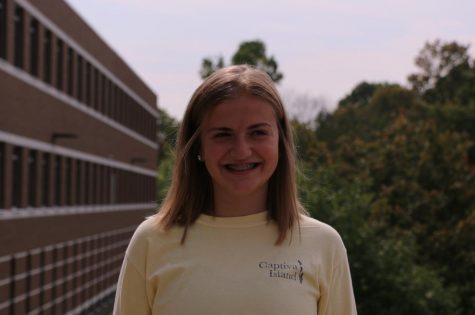 Vivienne Francois, Staffer
Vivienne Francois, sophomore, is a returning staffer. Vivienne is involved in cross country and student government. Vivienne loves to work with special needs kids and interact with new people. Vivienne loves memes and her number one goal is to be a famous meme.