Tinsel or Turkey
To some, playing Christmas music before Thanksgiving is untimely; to others, it's necessary.
Hang on for a minute...we're trying to find some more stories you might like.
On Nov. 1, stores like Target and Kroger put away the candy corn and bring out the peppermint. I believe that holiday festivities, such as listening to Christmas music, should start the day after Halloween, and I'm not alone.
"I think we should be able to be thankful for Christmas on Thanksgiving," junior Caroline Shabet said. "Being jolly should be something we can do all year, and our happiness should not be limited to a certain month or season."   
Retailers lead the way, decking the halls with Santa's castle and sleighs full of gifts, not Pilgrims and cornucopias. If stores are already selling Christmas trees, holiday clothing and gifts, we should be able to get in the mood by listening to holiday songs.
As soon as the Christmas decorations go up, the music starts. Music is basically non-existent for Thanksgiving, which makes it hard to get in the "Thanksgiving spirit." When stores start playing Christmas music after Halloween, it should be acceptable for radio stations to follow suit. Also, many people would agree that the first snowfall helps get us in the holiday mood, and since we have already had that, it just makes sense to start getting in the Christmas spirit.
"Once the snow falls, we should be able to sing songs about it and this time of the year because that's what they're for," Shabet said. "People who say all jolly songs are just about Christmas are wrong. Some people just appreciate the miracle of snow."
"Winter Wonderland", "Sleigh Ride" and "Baby It's Cold Outside" are some classics that don't even mention Christmas.
People should be free to enjoy Christmas music right after Halloween because it is happy music that gets you in the mood for the best holiday of the year. Hearing it gets me excited for Christmas and makes it seem like it's closer than it actually is. Christmas means less school and fun holiday activities.
[/sidebar]The familiar faces of your loved ones gather around the table. The mouth-watering aroma of the turkey permeates through the house. The cream-colored tablecloth is spread neatly on the table. This is what I remember and look forward to every Thanksgiving, but sometimes this is overshadowed by one thing: Christmas music.
Don't get me wrong, I love Christmas as much as the next guy. I will jam out to good Christmas music, especially "All I Want for Christmas Is You," any day—just after Thanksgiving.
Playing Christmas music so early is a disgrace. Why do people feel the need to start listening to Christmas music the day after Halloween? Where is the love for Thanksgiving? Mind you, autumn doesn't end till Dec. 21. Listening to Christmas music before the proper time neglects Thanksgiving, blowing past the opportunity to be thankful for the things and opportunities we have in life and rushing into the anticipation of gifts under a tree.
Fall is such a beautiful season, with the changing colors of the leaves, the cool chill that gives you the opportunity to pull out cozy sweaters. I like to enjoy the season rather than being rushed to the next one.
It is so hard to get into the spirit of a "White Christmas" when it is neither white nor Christmas.
The biggest complaint I have about the music being played so early is that it gets repetitive. There simply is not enough decent Christmas music for it to be constantly played for two months. Most people hate it when radio stations play the same thing over and over until we all start to hate it. The same thing happens during the holiday season; it starts to become more annoying than cheerful.
I want to enjoy the Christmas season, not detest it. So sit back, grab a pumpkin spice latte, pull on a cozy sweater and watch the leaves turn. Most importantly, be thankful for all November offers.

About the Writer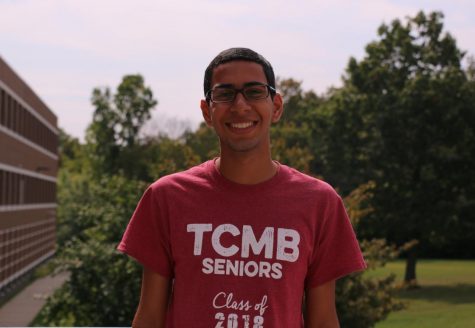 Jacob Sirhan, In-Depth Editor
Jacob Sirhan, senior, has natural stride length is five yards and can tongue-roll at a high C. As a member of Executive Board of Student Government, he single-handedly runs the entire school. He can often be found in Mrs. Parks's classroom, as she is his "home girl." He is part of the TCMB Drumline, tech for theater, and has participated in Relay for Life for the past 7 years. He loves to yell at people and tell them they are incompetent. He is determined, innovative, and responsible. His motto is "if you don't drop, go home", and has a strong belief in the power of "Oppression Free Zones."