Running Forward
The cross country team works to improve and grow its reputation, resulting in more college offers for its members.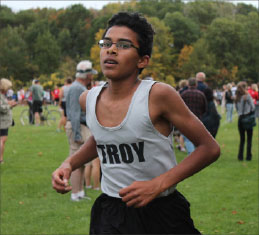 The boy's and girl's cross country teams are implementing new training techniques this season to try to qualify for the state meet. Assistant head coach Mike Messina has noticed improvement in his athletes and is excited for them to continue working for this goal. The girls have been county champs since 2010, and the boys qualified for the state meet in 2015.
"Our girls were very successful last year and now, one of the top teams in the state," Messina said. "Our boys are on the right path and continue to move up in the league and county."
The cross country team is trying to grow its reputation through continuous efforts from both the runners and the coaches. Many players practice during the off-season so they can maintain their fitness when they come back each year. The athletes also watch what they're eating so their bodies can keep up with the daily two-to-four- hour-long practices.
To better the cross country program, sophomore Jack Falk is working to move his way from the sixth-fastest sophomore to the first. He does weight-training, runs long distances and does strides. His best five-kilometer time is 16:35.
"I'm five seconds [from being on] the all-time list," Falk said.
Messina said he is proud to be coaching such a successful team and is working to continue building the program. Instead of putting his attention toward intense speed work, he decided to help his athletes develop more endurance and strength.
"The hope is that this will allow our athletes to be at their best when it matters most: at the state championship," he said.
Along with training differently, many athletes are working to maintain a healthy lifestyle. Senior Megan Worell eats lots of carbohydrates, fruits and vegetables. "You definitely need carbs as a runner," Worell said. "I'll usually have a bowl of yogurt after I finish running."
Colleges around the country have been scouting members from the program. Worell has gotten offers from Yale University, Cornell University, the University of Pensylvania and more. These offers have helped her decide what she wants to do after graduation.
"It makes getting into college a lot easier," Worell said. "It helps me get a better idea of where I would want to go."
Senior Hannah Palomino has also been recruited by numerous schools including the University of Michigan, Michigan State University and Cornell University. She plans on following up with them and is grateful since she wants to continue running in college.
"I'm excited to check out the campuses," Palomino said. "I'm excited to be able to have the opportunity to run in college."
Messina said he is very proud that several of his athletes have the opportunity to compete at a collegiate level.
"Running at college is a testament to their hard work and their success," Messina said.