What Spirit Should Be
Students should show the same spirit at school and club events that they do at football games.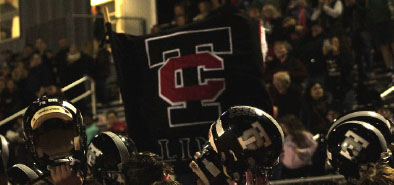 Hang on for a minute...we're trying to find some more stories you might like.
Every Friday, the TC Line hosts a pregame tailgate where around 50 kids sit under a white tent and watch some boys toss a football. Then, while most of us are on the football field preparing our cameras for the game, the TC Line is hyping up the marching band as they enter the stadium. When the game starts, the TC Line and student section are always there keeping the crowd's spirits high: cheering on the team, joining in on sideline cheer's chants or watching drumline show off. For three hours, our school stands together to support our peers. Why not all year?
As a school, we need to stand as one and support everyone the same way we would do at football games. We should be showing up to band, choir and orchestra concerts and theatre performances. We should show support at robotics, DECA and forensics competitions. Every student and club deserves to know their friends and peers want them to succeed.
From now until the end of the year, students should show spirit beyond the games. Everyone deserves to be appreciated, and it is our job as peers to make them feel that way. Upperclassmen who usually lead the chants and cheers have become role models to underclassmen looking to join in on the spirit at games and they should bring the same unity to school and club events.