A Renewed Spirit: The Colts Win Against Stoney Creek, 27-21
The varsity football team wins their first game while on the road with an overtime touchdown.
The football team pulled through for their first win Thursday, Aug. 30 against Stoney Creek with a final score of 27-21. While approaching halftime, some may say there was not much hope for the Colts with a score of 0-21, but things started to pick up after a 95-yard touchdown made by senior, Quest Bigelow.
"When I scored the touchdown, I was thinking 'oh my god we can really win this game', and my teammates were really excited too," Bigelow said.
The win was not only a victory for the team but a morale booster for the student section.
"The energy at the beginning was lacking, but as soon as we started to pick up points, it became more intense," sophomore Wade Wudyka said.
Towards the end of the fourth quarter, the Colts tied it up 21-21 and ended up taking a knee with one second on the clock.
"When we tied, it was very exciting," senior Sara Lewandowski said."It felt like we had a good chance for a comeback and a win. My friends and I were all on edge and eager to see the ending."
After the last touchdown of the game, the Colts missed the field goal, but the defense stopped the Cougars and the game ended, causing the student section to rush the field.
"It was great to see the football team have a real student section at an away game," Bigelow said. "It was an awesome experience."
The game left all three students excited and optimistic for the rest of the season.
"I think the football team has been working and training hard, and I believe that this season will be a good one," Lewandowski said.
The Colts' next game is Friday, Sept. 7 at home.
About the Contributor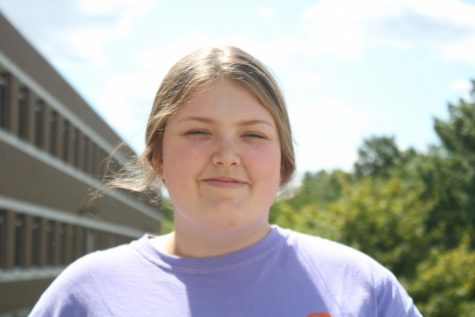 Chloe Collins, Digital Content Editor
Chloe Collins, senior, is the first digital content editor for The Chariot. She has always loved digital and audio media but has never thought to pursue it until now. She loves to watch YouTube, listen to music and go to concerts. In her spare time, you can find her behind the counter at the local Starbucks.