Meet the New Foreign Exchange Student
Sophomore Yasmine Da Gbadji talks about her new life in the states.
Sophomore Yasmine Da Gbadji and senior Kendyl Gatzemeyer sit at a table at Tim Hortons enjoying donuts by the handfuls. They laugh about everything under the sun. The pair became quick friends following Da Gbadji's move to Michigan in August. Gatzemeyer and Da Gbadji moved into an apartment complex at Big Beaver within months of each other.
Gatzemeyer remembered when Da Gbadji and her first hung out. "Breaking her out of her comfort zone" was what Gatzemeyer wanted to help her do, so the two went out.
"We waited for her host mom to leave, and when she was out of sight, we basically ran out of the apartment complex," Gatzemeyer said. "[We] tried to go to Tim Hortons. Foreign exchange rules are pretty strict, [going to Tim Hortons] was not allowed, but she was very glad that I was trying to do something like that. We kind of bonded over the fact that we're both rebellious people. And the rest is history."
Da Gbadji came to the United States from Germany, where she was born and raised. She left behind her parents, two younger brothers and a younger sister. She often misses her family back in Germany, but she calls them every weekend to keep in touch.
Da Gbadji has to follow all the normal guidelines that every American resident has to. In addition, she has to follow specific foreign exchange rules.
"I can't get a driver's license," Da Gbadji said. "I have to get good grades and be respectful. I am not allowed to work, only babysitting and stuff like that."
Last year, Da Gbadji spent two months in France. She said that she liked the country and she got along well with her host family.
"My host parents gave me a lot of freedom, so I could go out a lot," Da Gbaji said. "School was sometimes a little hard because I wasn't really fluent in French, but I had a lot of fun."
For the rest of that school year, she was enrolled in her school in Germany. But from all the schools she's enrolled in, shehe enjoys Troy High the most.
"We have so many choices compared to Germany," Da Gbaji said. "The classes you can take, for example. I can take food and cultures, which you cannot take in Germany. There are so many different sports that you can do. I am trying to make it on the basketball team."
It was a smooth transition from her German school to the U.S. There were some bumps along the road, but all in all, it was easy.
"I understand English, so it wasn't really hard," Da Gbadji said. "The first day, I did get lost. I couldn't find the exit. It is huge compared to my school [in Germany]."
Da Gbadji has been to numerous countries and has enjoyed getting to know the new cultures. She enjoys travel in general and going out of the country to be a foreign exchange student. But, she wishes she could bring her family with her on her journeys.
She has not lived in her favorite place though. She would love to be in Benin, which is a small country in western Africa.
"My dad is from [Benin], so we have been traveling there a lot," Da Gbadji said. "It is not very poor where my dad is from. My family is pretty rich there. There is lots of traffic because you don't need to have a driver's license for motorcycles. No matter what age you are you can just ride. I have never been to the school there, but they always play soccer outside the school, and I like it."
Following this school year, Da Gbadji plans on finishing high school in Germany. She wants to study in the U.K. after high school and hopes to move back to the United States after that.
Gatzemeyer says that Da Gbadji has made a lot more friends since moving in and she is fun to be around. She also says that she fits perfectly into the Troy High culture.
"I would describe her as a really nice person a real cute personality," Gatzemeyer said. "Such a nerd. Literally, if we are not going out to eat somewhere, sometimes we go out to eat ice cream sometimes we get donuts, sometimes we are just getting food in general, but if we are not doing that, she is probably at my house watching some Marvel movie."
Leave a Comment
About the Writer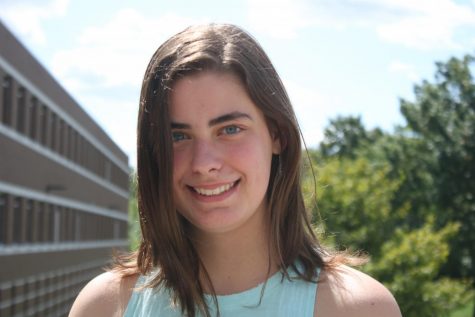 Kaitlyn Piggott, Print Editor-in-Chief
Kaitlyn Piggott, senior, joined The Chariot when she was a freshman as a staff writer and has since climbed the ranks from sports editor, copy editor to now print editor-in-chief. Through The Chariot, she uses her passion of writing to bring a voice to the school and shed light on topics close to her heart. When she is not tirelessly editing stories or working on spreads, she can be found writing her many dystopian novels, reading every John Hart book there is and watching way too much "Supernatural" with her brother.