Nothing Bundt Cakes is Nothing Bundt The Best
A comprehensive review on a recently opened bakery in Troy.
          On July 26th, the "Nothing Bundt Cakes" bakery franchise opened a new location on Big Beaver. It is owned by the Detroit Lions' wide receiver, Marvin Jones, and his wife, Jazmyn Jones.
           Fast forward to October, and I was finally able to go to the bakery and have the completed bundt cake experience for myself. Before embarking on my sugar-filled adventure, I talked to my friend, and "Nothing Bundt Cakes" enthusiast,  junior Maddie Bloch.
          "[The bundt cakes are] so good," Bloch said. "The frosting is great, the cake variety is great, and it tastes awesome. "It's literally my favorite place on the entire face of the earth right now."  I couldn't wait to go and try it after hearing Bloch's stellar review. 
         One thing I was most excited for was the fact that bundt cakes usually don't have a massive amount of frosting. While I enjoy frosting, I definitely don't crave cake with an equal frosting to cake ratio. I feel like frosting tastes best in small amounts. Otherwise, the frosting is just too overpowering.
          I decided to judge the bakery on three main components: atmosphere/service, taste and presentation. The soft blue curtains draped on neutrally colored walls contributed to a very homey and quaint atmosphere – and the "not a franchise" feel seemed intentional. It is also very compact with no tables to sit and eat, which makes sense considering it is an on – the – go kind of place, and the service was pretty fast since the cakes are already sitting there and you only have to choose your flavors. They also assist in the flavor picking process by having one of their most popular flavors out as free samples at all times. I ordered "bundtlets", their smaller cakes geared for the individual, at $4.25 per bundtlet.
               Some of the popular flavors that I tried were the red velvet and white chocolate raspberry, and, if you ask me, the most cliché fall flavor out there, good old pumpkin spice.
White chocolate raspberry:
The cake component reminded me of what a strawberry cupcake tastes like. It was a little too sweet for me, especially paired with the frosting. However, it was very nice to feel the actual raspberry seeds and see pieces of the fruit inside, rather than just pink food coloring and artificial flavoring. The frosting component didn't have a distinct or noticeable white chocolate taste, it just tasted like vanilla icing.
OVERALL RATING: 3/5  
Red Velvet:
    I sampled this flavor in store, and it was the most dense one by far compared to the others I tasted. It's even visible. If you look closer, there are not a lot of air bubbles. The consistency was similar to a cake pop, and the cream cheese frosting complemented the cake nicely. It was very luscious and had the perfect amount of sweetness.
OVERALL RATING: 4/5
Pumpkin Spice:
     I decided to save the best for last. The frosting looks like it's trying to escape the box because it was a little tricky to open (at least for me). This cake was the driest out of the rest of the cakes that I tried, which were all very moist. Although, that wasn't a bad thing, because it was accompanied with the perfect amount of rich frosting. The cake wasn't extremely sweet either, but the frosting definitely made up for it. The closest thing I can compare this to is a pumpkin roll.
OVERALL RATING: 5/5
           I think it's safe to say that the red velvet and pumpkin spice were my favorite, and I'm not even a pumpkin spice fanatic. The pleasant atmosphere, quick service and friendly staff were all great pluses, as well as the delicious cakes of course. The bakery had some fun flavors that I will definitely have to go back to try. I'm  already anticipating all of the new and exciting flavors that they'll come out with in the future.
About the Contributor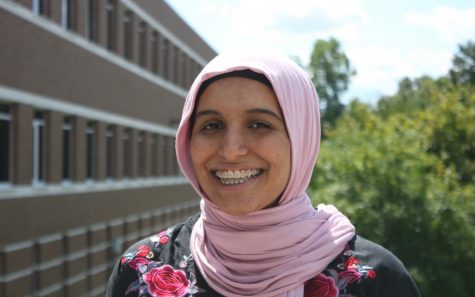 Murryum Farooqi, Body Copy Editor
Murryum Farooqi, senior, is one of two copy editors for The Chariot. Her passion for truth, justice and awareness has been fueled by meeting journalists and her interest in history. Murryum has most enjoyed reviewing local sweet tooth spots, as well as writing about national politics, societal workings and local environmental news. Her love of writing and public speaking have prompted her to challenge herself academically, as well as join various clubs that allow her to practice her speaking and presentation skills. She gets a thrill out of iced caramel lattes, is delighted to whip up a new and interesting dish when she has the time and is always up for a good shopping spree.