Two Heroes and a Villain: The Future of DC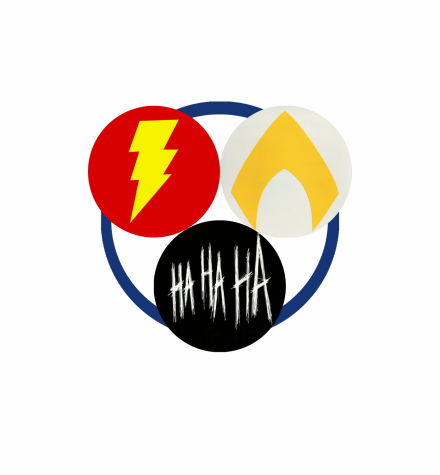 The DC Extended Universe (DCEU) has many movies slated to come out in the next couple years, which seem to be taking a different direction than the previous movies in the universe. One of these movies is "Shazam" which will tell the story of a kid named Billy Batson, played by Asher Angel, who is granted superpowers, it will release on April 5, 2018. In an interview with MovieFone, the director, David Sandberg, said the film will strive for a lighter tone, and he's looking forward to bringing his comedic experience to a feature film. This change in tone is being welcomed by some.
"I think it's funny," senior Connor Anderson said. "The trailer makes it look like it's going to be good."
"Shazam" contrasts the other movies in the DCEU such as "Man of Steel," which was a dark take on Superman.
"It's a completely different route from what the DCEU has been doing so far," senior Andrew Lacombe said.
The unnamed Joker origin movie is in the works currently and will star Joaquin Phoenix. It will take place in a parallel universe to the other movies, while still being in the DCEU. It will release on Oct. 4, 2019. Not a lot is known about this movie, the information we have consists of small pieces of news and pictures of Phoenix as the Joker. This movie will focus on the main villain of Batman, but the anticipation for this movie from students is mixed.
"The Joker is a good character, but he's good as a supporting cast member," Lacombe said. "[It's] just the villain and not the main [character] that we're watching."
Some are skeptical and are prepared to take the movie with a grain of salt.
"It's interesting; you can't really replace Heath Ledger's Joker," Anderson said.
"Aquaman" is another upcoming movie in the DCEU, starring Jason Momoa as the title character. It will be the first movie in the universe to take place after the events of "Justice League." Aquaman returns to his home in Atlantis, which is caught in a war brewing between the surface dwellers and his people. Aquaman will encounter Ocean Master, his brother and nemesis, who unlike Aquaman, is fully human. Ocean Master despises Aquaman, and grew up in his shadow.
"It's a very classic Shakespearean story of sibling rivalry," director James Wan said in an interview with Entertainment Weekly.
Some people are more excited to see Aquaman's nemesis Black Manta rather than the leading superhero.
"He is one of my favorite villains and it would be interesting to see him in the cinematic universe," Lacombe said.
Black Mantis is another one of Aquaman's arch-nemeses who despises the sea, and wants to become the master of it.
"Aquaman" is being released in America on Dec. 21, 2018.
Leave a Comment