Feldkamps' Family Travels
English teacher Amy Feldkamp appreciates past family vacations she has taken to North America.
Over the last four years, English teacher Amy Feldkamp has traveled through the U.S. and Canada for three to four weeks of the summer with her family. They have traveled coast to coast across North America and have visited a dozen National Parks. The first year Feldkamp and her husband were married, they traveled in their van for the summer. The first time they traveled as a family, they drove their van to the Maritimes in Canada which included Prince Edwards Island and Nova Scotia. From there they took a six-hour ferry to Newfoundland. Although they had traveled before, this was the first year they traveled with their children.
This past summer they traveled across the western United States in a trailer that they purchased when they grew out of their van. The family traveled to six different national parks in that region including the Grand Canyon, Capitol Reef, Bryce, Zion and Yellowstone.
This year was one of the first years all of their children have been old enough to do the long hikes Feldkamp and her husband enjoy doing. They all received new hiking bags to use on the upcoming hikes.
"They were really excited to receive their hiking bags. They put all the water and snacks they could fit inside the bag," Feldkamp said.
The hikes they went on ranged from three to ten miles. Overall, this summer the family hiked over 130 miles.
"My favorite place we have been might be Jasper and Banff," Feldkamp said. "It's really crazy, seeing these places in real-time. Usually, you only see them in screen savers."
Feldkamp and her family have been to the two parks more than once and plan on returning in the future.
"The best part of the trip is really just being with the family and seeing parts of the country you see in pictures," Feldkamp said.
The Feldkamps plan on traveling to places they visited before they had children. They would like to share the places that they enjoyed so much with the ones they love. Their plan is to return to Jasper and Banff National Park, located in Alberta, Canada and possibly the Maritimes this upcoming summer.
Now that their children are older, they hope that they can enjoy the beautiful scenery of their parents' favorite places and enjoy the family time together.
About the Contributor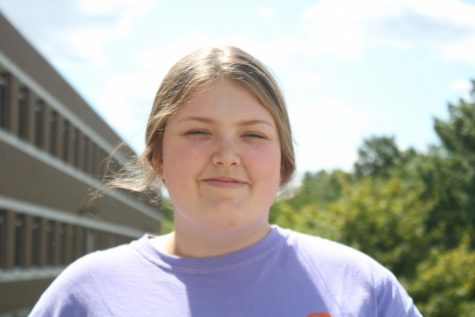 Chloe Collins, Digital Content Editor
Chloe Collins, senior, is the first digital content editor for The Chariot. She has always loved digital and audio media but has never thought to pursue it until now. She loves to watch YouTube, listen to music and go to concerts. In her spare time, you can find her behind the counter at the local Starbucks.