Apple Versus Pumpkin: The Fall Showdown
Senior news editor Megan Wallace and junior co-copy editor Kaitlyn Piggott battle it out in a debate about which of the two fall items is the best.
In order to truly figure out which is better, you have to break down what makes these foods the best.
Pumpkin patches vs. apple orchard: First of all, there are the pumpkin patches with the perfectly rounded edges and the crispy leaves on the ground. For me, it brings back memories of my family picking out the perfect orange food to carve and decorate our house with. People can't carve an apple. Pumpkin patches aren't open for as long as apple orchards, so get out and enjoy the best fall food. Apple orchards are open from late August to late November, which spans into summer, whereas pumpkin patches are only open during October. Thus, apples span into the summer season and pumpkins are strictly fall. People should go while they can. There are a variety of things to do with pumpkins. You can carve them and eat the seeds or put them out as Halloween decorations.
Pumpkin pie vs. apple pie: This, to be honest, is totally up to what mood I am in, but, when it comes down to it, pumpkin pie is the fall pie. In my household, we have pumpkin pie for Thanksgiving and then apple pie for Christmas. In fact, pumpkin pie is the healthier choice to take over apple pie as well. Apple pie has 43 more grams of sugar than pumpkin pie and 86 more calories. In addition, with pumpkin pie, you receive the natural antioxidants like vitamin C and A, iron and calcium. It seems to me that pumpkin pie isn't a bad choice for dessert, not to mention it tastes good, too. Just imagine it with a scoop of whipped cream on top. It makes my mouth water just thinking about it.
Pumpkin spiced lattes are the next order of business. Many people wait for the fall season and look forward to the pumpkin spice lattes reappearing at Starbucks. The Pumpkin Spice Latte is the most popular drink during the fall season; the taste is the perfect way to taste autumn. The only thing it can be compared to is apple cider. Don't you get sick of apple cider? It is so old-fashioned. When CBS Fox News interviewed people on which fall drink they prefer, most preferred the pumpkin spice latte.
Lastly, pumpkin donuts vs. apple fritters. Since cider mill donuts actually do not contain any traces of apples, the closest comparison is the deep-fried apple fritters. The cider mill donuts clearly would have won. The sugar around the outside of a donut is wonderful. It is not too sweet and with a hint of spice. Apple fritters are too greasy and too deep fried for my liking. In addition, pumpkin donuts have fewer calories than their counterpart and also far fewer carbohydrates. So if you are on a low-carb diet or want to watch what you eat a little bit, splurging on pumpkin donuts is the better choice.
So, in my opinion, pumpkins are definitely the better choice this season instead of apples. If you like apples better, well, you are wrong.
Leave a Comment
About the Contributor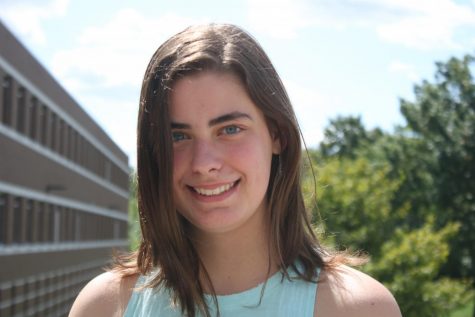 Kaitlyn Piggott, Print Editor-in-Chief
Kaitlyn Piggott, senior, joined The Chariot when she was a freshman as a staff writer and has since climbed the ranks from sports editor, copy editor to now print editor-in-chief. Through The Chariot, she uses her passion of writing to bring a voice to the school and shed light on topics close to her heart. When she is not tirelessly editing stories or working on spreads, she can be found writing her many dystopian novels, reading every John Hart book there is and watching way too much "Supernatural" with her brother.