Album of the Year
Michael Thistlethwaite gives his thoughts on the most influential hip-hop albums of the year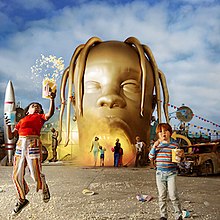 Hang on for a minute...we're trying to find some more stories you might like.
ASTROWORLD – Travis Scott
Before this album's release, I had no reason to believe that Travis Scott (Jacques Webster) was going to drop a decent project. He had not put out a solid set of songs since his release of "Rodeo" back in 2015, and "Birds," while containing a few decent tracks, saw the artist who once was ripe with excellent production get watered down by generic beats and lackluster features. In addition to this, his features and collaborative efforts were not up to the standard that I was used to seeing; this, coupled with the fact that "Astroworld" had so much hype leading up to it, led me to believe that his next album would be nothing but a flop. Fortunately, I was wrong.
The first time through listening to this album, I had to keep pulling my phone out to check the features because well… there are a lot. This detail initially startled me. When a hip-hop artist has a lot of big-name features, this usually means that they are compensating for an album containing no unique or sustaining qualities of its own, leaning on popular artists to drive sales. Each feature, however, is so beautifully done, with each song for the most part complementing the respective artist as well as Travis.
"
Not once did I ponder the fact that Travis gathered an artist purely for clout. Whether it's Gunna's melodic voice at the beginning of "Yosemite," or Swae Lee's singing on "R.I.P. Screw," the features hit hard."
— Michael Thistlethwaite
Drake also comes through with an excellent feature on "Sicko Mode," delivering a few lines before he disappears until later in the track.
Travis Scott
The album starts off with "Stargazing," filling the strong awaited theme of Astroworld perfectly. Travis cycles between his usual psychedelic autotune rap and a higher pitched frequency which he showcases at the end of a few hooks. Halfway through the song, Travis switches the beat, and it sounds like a completely different song. The 808s are beefy and instead of melodic singing, Travis shows us he is, after all, still a rapper. The four minutes and change keeps you satisfied and on your feet.
I don't think I have to say anything about "Sicko Mode," as it's the highlight of the album and a classic example of a mainstream pop-rap hit. It is a song that is no doubt overplayed but is equally excellent in its bouncy production and catchy lyrics: "Like a light."
"Stop Trying to be God" is a wonderful change of pace with its groovy jazz and saxophone snippets placed in the background. I'm a very big fan of this track due to the fact that it shows us that Travis is still not afraid to take a different approach to songs.
The area in which this album slightly disappoints is the ending. "Butterfly Effect" is horridly out of place on this album, and while it was a fun song to listen to during the summer of 2017, it has overstayed its welcome and Travis putting it on "Astroworld" is an obvious attempt at getting more plays and streams. "Coffee Bean" also is a disappointing track that does little to close the album.
I didn't see this coming from Travis. I expected an overrated, basic and hyped up album. What we instead received was a gift from Jacques Webster, with Astro-themed beats and some stellar autotune. Although it isn't without fault, it's still spectacular.
KIDS SEE GHOSTS – Kanye West and Kid Cudi
Kanye West has been on fire lately. His part in the production of the incredible Pusha T album and his own work on Ye made me extremely confident that his collaborative album with Kid Cudi would not disappoint. It did not. Kanye is once again following his own trend of short albums, a trend I am a big proponent of. It makes listening to the album easier, and it often seems that shorter albums contain some of an artist's best work. This is clearly a better alternative than pumping out albums that are an hour and 40 minutes in length.
Listening to this album was quite enjoyable. Kanye is back in full form and has once again delivered the supreme quality of work he's known for. The way he constructs songs and uses artists' strengths to work off of his own is no doubt a positive. Through the album, this is clear with Kanye and Cudi playing off each other, but it can even be seen in the very first track featuring Pusha T, a rapper whose distinctly nasally voice can't be ignored. The first track on the album, "Feel the Love" is one of my favorites this year. After Pusha's verse, Kanye breaks into these sporadic gunshot noises that are emphasized by the bass. This combination of noises makes you want to run through a wall and creates a beautiful contrast between the hook by Cudi.
This project is highly emotional, with themes of mental health evident throughout. Both Kanye and Cudi have had their fair share of publicly prominent mental health issues. Obviously, this impacted their music, as both "ye" and "Kids See Ghosts" are incredibly personal.
"4th Dimension" is the only song off this album I see being popular with the majority of hip-hop listeners, as it is the most traditional rap track on the album. It contains a sample of a 1936 Christmas song by Louis Prima titled "What Will Santa Claus Say?" and it's the last thing you'd expect to be on a modern hip-hop album. Kanye, however, worked his magic and sampled the song beautifully, letting it play for 20 seconds before inserting a beat and rapping about things that aren't appropriate for this article. It's extremely well done, and ends with one of my favorite bars of the year: "If I get locked up, I won't finish the sent-".
"Freee (Ghost Town, pt. 2)" can almost be listened to as a sequel to "Ghost Town" from
"ye". "Freee" is majestic and the " Freeeeeee" gives you chills everytime you listen to it.
This album is a masterpiece, and at only 24 minutes in length, wastes no time in delivering the most enjoyable hip-hop experience of the year. Each song is worth a listen and the themes both Kanye and Cudi explore are worth diving deeper into. Give this album a listen. You'll be glad you did.

About the Writer
Michael Thistlethwaite, Sports and Web Editor
Michael Thistlethwaite, senior, this is his second year on staff and works as the Sports and Web Editor.