Government Ends Longest Shutdown in US History
Social studies teachers explain government shutdown
Hang on for a minute...we're trying to find some more stories you might like.
From Dec. 22, 2018 to Jan. 25, 2019, the longest government shutdown in United States history occurred. Previously, the longest shutdown was 21 days long making this one 14 days longer. The shutdown happened because of President Donald Trump's request for $5 million for the southern border wall; it affected around 25 percent of government workers. A government shutdown occurs when there is a problem with funding or a disagreement on budget leading to a full or partial shutdown of the government.
This was the second shutdown during the presidency of Donald Trump and some don't think it will be the last.
"It's going to happen again this Friday," social studies teacher David Aldinger said.
Aldinger is not alone in his beliefs about a shutdown happening on Friday. Many people also believe there will be another government shutdown very soon.
Although the government was shut down, people with social security, unemployment and temporary assistance were all still able to collect their benefits. Medicare was also unaffected by the shutdown due to it being funded until September 2019 This made sure people could still be able to enroll, make claims and have support. Tax refunds and food stamps could also still be collected. An estimate from the company JP Morgan stated that the United States lost around $1.5 billion every week of the shutdown and the Small Business Administration stopped giving out new loans at the start of the shutdown. The shutdown also delayed loans from the United States Department of Agriculture (USDA), Federal Housing Administration (FHA) and United States Department of Veterans Affairs (VA). Most loans going through the FHA and VA  were not processed during the shutdown. The USDA did not approve any new loans. While many were worried about not receiving a tax refund this year due to the shutdown, the Trump administration assured they would try their best to hand them out.
.
"
I think the average person is not affected by it."
— History and Economics teacher Dave Aldinger
An estimated 80,000 non-essential government workers were affected by the shutdown. One of the issues during the shutdown was the lack of payment to the Transportation Security Association (TSA) workers, therefore causing many workers to call in sick. Another group of people that had to go without pay were about 24,000 workers for the Federal Aviation Association. As a result, the National Air Traffic Controllers Association filed a lawsuit against President Trump and other government officials for not being compensated.
An overlooked group affected by the shutdown was workers who legally come over the border every day for their jobs. "My uncle lives in Canada and crosses the border for work every day, and I'm sure he was affected by that," History teacher, Chris Frasier said. "The borders and border security are not shut down during a government shut down due to them being considered essential. Although during the last shutdown some border patrol workers went without pay."
The shutdown ended when Congress and the President agreed to a stopgap spending bill. To avoid another shutdown, some members of Congress came up with a bipartisan border deal that would only supply about $1.3 billion for 55 miles fencing for the border instead of the $5.7 billion Trump wanted for a wall. Trump said that he was unhappy about this deal but didn't say whether he would veto the deal or not. He also said that he does not think there will be another shutdown. Some members of Congress believe that Trump will veto the bipartisan deal leave the border budget discussion back at square one.

About the Writer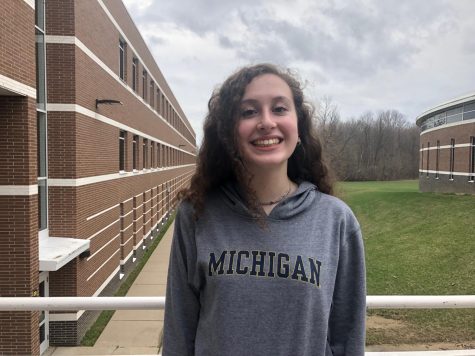 Leah Guindi, staff writer
Leah Guindi is a sophomore and this is her first year on newspaper. She enjoys running, swimming and hiking.