Fake Friends
Rumors fly about Tristan Thompson getting caught up in another affair.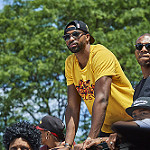 Rumors are swirling that Kylie Jenner's long time friend, Jordyn Woods, had an affair with the father of Khloe Kardashian's child. This is significant because this hasn't been the first time Tristan Thompson, the father of of Khloe's child, has cheated on Khloe. Yet, the public questions if Khloe and Thompson are even still together after the first time he was caught.
"I do believe in the scandal," sophomore Lauren Funk said. "I think that Tristan Thompson is a cheater that will keep on cheating."
Funk was among those who were not shocked or surprised by the scandal. People now wonder what the future holds for Kylie as rumors fly that she has booted Woods.
"It was right of Kylie to kick Jordyn out because that was a fake thing to do," Funk said.
It's easy to say that this situation has caused a great deal of deterioration. Yet people commonly view the bond of the Kardashian family as strong and powerful.
"
Honestly I think the Kardashian family bond is stronger than any friendship. I think Kylie is going to stay loyal to Khloe and not take Jordyn back as a friend."
— sophomore Lauren Funk
Woods being on her own is strange for some because she was always seen with Jenner since 2011.
"I don't even know what Jordyn famous for other than being Kylie's friend, she won't be going anywhere without Kylie and she will be unliked and forgotten by fans.
Update as of March 1, 2019:
During an interview with Jada Pinkett Smith, Woods admitted to Thompson kissing her, but claimed that nothing else happened. However, Khloe responded on Twitter by claiming Woods is being dishonest.
Why are you lying @jordynwoods ?? If you're going to try and save yourself by going public, INSTEAD OF CALLING ME PRIVATELY TO APOLOGIZE FIRST, at least be HONEST about your story. BTW, You ARE the reason my family broke up!

— Khloé (@khloekardashian) March 1, 2019