Homecoming Two Weeks Too Early
Some students fear the annual dance might be coming in too fast.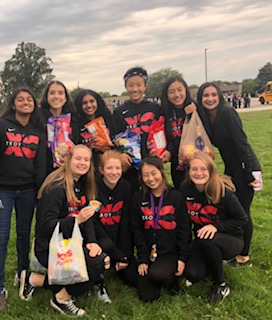 As freshmen enter high school, there could be many challenges to face. Knowing where classes are, finding classes to take, knowing what and how to study, and most importantly, meeting the 2,000 or more new people. The 2019-2020 year starts August 27th, but now, freshmen will be facing new obstacle that the year's before have never endured. Homecoming two weeks after school starts. With only two weeks, all grades will have to find reservations and outfits, but for freshmen that could be difficult given that they have never been to a high school dance. On top of the reservations and outfits, freshmen will need to find people to go with and this could be a problem because it might leave the freshmen un-optimistic because they feel they don't have enough time to meet new people.
"The timing last year was pretty good since it gave freshmen and new students enough time to get to know the school and other people and gave people time to make plans for homecoming," Freshman Aileen Liu.
Freshmen aren't the only affected, stugo has been heavily impacted in many aspects that may threaten the school spirit they strive to encourage. Student government representative, Ezra Simon describes how the early date broke one of student government's popular traditions.
"First off, stugo has had to start planning the homecoming preparations earlier such as the theme, spirit packs, and early meetings," Sophomore Ezra Simon. "The biggest impact on stugo is whether or not we can make floats with the limited time" said Simon.
For freshmen, they will might never witness making and preparing floats for the homecoming parade because floats are going to be too stressful and un-enjoyable to make within two weeks.
"I thought the homecoming parade was actually really fun," said Liu. "The floats were pretty cool and just walking in it with people I knew and throwing candy at little kids was fun."
Another aspect stugo has been affected is providing school spirit during the school day.
"With the date of homecoming being a month earlier than usual, getting organized with spirit packs, student awareness, and school spirit within the first two weeks of school will be a challenge," said sophomore Kyle Jung. "Especially with the possibility of no floats this year, the school spirit will be difficult to heighten."
In addition, student government and freshmen, another large group of students are affected by the two week time.
"Marching band as a whole is at a time crunch to perfect our music quicker for our best performance and be able to handle the physical endurance of marching early in the season," said Simon.
For students like Simon, who have marching band and student government, school work will still need to be kept in mind. But nothing stops pure colt determination!
"I know us colts have always been able to push boundaries and overcome obstacles and I know we can do it this time too and make it a great homecoming" said Simon.

Go buy a homecoming ticket today! Go to categories.asp, troy high school, and from there add the homecoming dance to your cart!