Mary Latham Stops by, Bringing More Good Vibes
Mary Latham Speaks About Her More Good Project
       Pandemonium, madness, and utter chaos are just some of the terms some people may choose when asked to describe the state of the world, but ask Mary Latham, and she'll most likely choose words like hopeful, inspired, and determined. On Friday, May 31, Latham's journey to find more good stopped in Michigan and made a pit stop here. Latham shared the story of her mother's tragic death by cancer that inspired her to travel to every single state in America, looking for stories of positivity and genuine human kindness. Once she finishes, she plans to compile everything into a book to donate to hospital waiting rooms.
Her own hospital experience during her mother's death is what inspired Latham to try and bring some positivity into the waiting rooms she thought could be made less depressing.
          "I think that when you're sitting in these hospital waiting rooms, you're losing someone that you love probably and your about to go through something horrible, to kind of know that there are other people out there that have gone through the same thing, and have created something positive out of it,  it's a really uplifting thought," Latham said.
Her main objective is to give people at least one thing that is positive in rooms that usually don't have much positivity to offer.
           Remarking on the fact that there wasn't even a magazine to read, she wanted to "give these people some hope and something happy to read while they sit there."
Latham's whole trip has been funded by donations from people she meets along the way, and she's also been staying in the homes of those people.
She says traveling and exposing herself to so many different people and stories gave her a new perspective and really allowed her to figure out what truly matters to her in life.
"It has been a very large perspective punch in the face," she said. "Traveling outside our personal bubbles can affect our outlook on life, and our own problems feel less significant," Latham said.
She also says that the hardest part of what she does isn't staying with people she doesn't know, but the emotional toll it takes on her. One aspect that can be tough is persuading those who are convinced there is no good in the world. However, Latham sees it as a rewarding challenge.
"I never get scared of people, although sometimes it's more difficult to connect with people which is always a fun challenge, because you can break them to realize there's good out there," she said.
Latham believes that how we choose to engage with social media and news also plays a large role in how much good we see in the world. She believes that people should work toward creating a balance of the negative and positive in the world, and not overdo anything.
"Stay away from the news as much as possible, be educated, but don't be sitting on your Instagram scrolling on your feed," she said.
To her, social media tends to have a negative effect on the way we perceive ourselves, serving no beneficial purpose in the end.  
"Even though it's not news, it's just consuming your time and putting you in a trap, because we're just constantly comparing ourselves to others," Latham said.
Through her travels, she has seen firsthand the destructive power social media has on both those who scroll, and those who post.
" Why are you doing this?" she found herself asking a woman she met in California.
Latham says the woman was clearly struggling, yet she didn't fail to post her supposedly picture perfect life to Instagram.
"You're making your friends feel like they're not as beautiful as that perfect family," Latham recalled telling her. "When really at home you're getting ready for your divorce and depressed, it's like you're trying to fake your friends out to fake yourself out," Latham said.
Junior Shruthi Sunilkumar wasn't familiar with the More Good project before hearing Latham speak, however afterwards, she was most impressed with her ambition and big goals.
"She is a pretty cool and awesome person, but also a little crazy but in a good way," Sunilkumar said.
She felt that the project was unique and very much needed in today's world.
"She's literally sharing kindness and positivity wherever she goes, which is truly an impressive task, especially in the world right now, so we need more people like her," Sunilkumar said.
At the end of the day, Latham finds joy in the small moments that remind her about her real purpose: showing people the good around them. One of those moments occurred while she was on a walk with a host.
"She kind of stopped and took my hand and said, 'you're making me feel so much better.' That's all I'm trying to do with this whole thing.If you can make one person feel a whole lot better about hearing these stories and knowing that there's still good stuff out there and everything, then it's a success," Latham said.
In fact, Sunilkumar says Latham had a lasting effect on her as well, and she aspires to be someone who inspires positivity just like Latham someday.
"It really gave me some hope and an overall positive attitude. Even for the rest of the school day I felt so happy just because I heard her speak," Sunilkumar said.
Currently inspiring one person at a time in Kentucky, Latham is continuing her journey to find the best in humanity.
About the Contributor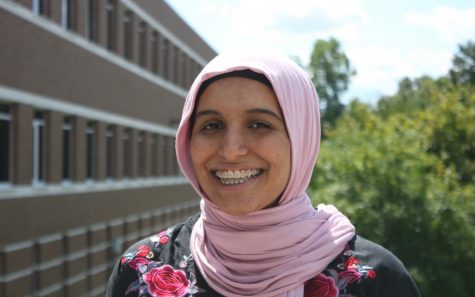 Murryum Farooqi, Body Copy Editor
Murryum Farooqi, senior, is one of two copy editors for The Chariot. Her passion for truth, justice and awareness has been fueled by meeting journalists and her interest in history. Murryum has most enjoyed reviewing local sweet tooth spots, as well as writing about national politics, societal workings and local environmental news. Her love of writing and public speaking have prompted her to challenge herself academically, as well as join various clubs that allow her to practice her speaking and presentation skills. She gets a thrill out of iced caramel lattes, is delighted to whip up a new and interesting dish when she has the time and is always up for a good shopping spree.