A Standing Ovation for Rick Bodick
Rick Bodick forever instills his legacy at Troy High.
Late theater director Rick Bodick has left his legacy firmly in the hearts of the Troy Community. It was easy to tell that Bodick had a passion for the arts and it was evident in the way he directed and produced the award-winning Troy Theatre Ensemble. After news got out about his passing, the Chariot started reaching out to past and present students about Bodick's legacy with them and the school.
The results were astounding to say the least.
Bodick believed in people and saw potential in them. Some would even say he changed their lives. Sophomore Alexis Gearty, who played Belle in 2019's spring musical of "Beauty and the Beast," believes Bodick changed the way she viewed herself.
"
He changed my whole life for the better.
— Alexis Gearty
"When he gave me the lead role as a freshman, he gave me something to believe in," Gearty said. "I was at my lowest point before that show. He pulled me out of it. With teaching me theatre, asking me how I was and praising me for how wonderfully I did in his eyes, he showed me that I can be good at something and he changed my whole life for the better."
Senior Sean Hodges always respected Bodick for everything that he had done for the school and especially developing as he said, a self-made creative and helpful outlet for people, which was the Troy Theater Ensemble, TTE, and he said that Bodick will forever be engraved in the theater.
His wisdom extended beyond theatre and into life. Hodges learned through numerous examples of selflessness and giving his all to others, that you are only in control of yourself. One of the prime examples of Bodick caring for others was Hodges' most profound memory of his teacher. Hodges had one of the lead roles as the Beast, alongside Gearty. Following every opening show, Bodick would find Hodges and praise him for a job well done. This time, Hodges didn't seem to find Bodick in the swarm of a sold out crowd.
"I didn't see him right away and kinda started to think that I wasn't, but he caught me right as I was walking out of the building," Hodges said. "He apologized for not being able to share his thoughts after the show, which was unnecessary of him, but so kind. Then, he asked me something that nobody that I've ever looked up to had ever asked me before: 'How do you do it?' The way he said it and how honest and genuine he was in congratulating me and the rest of the cast, will continue to amaze me for the rest of my theatrical career."
For Tyler Bouque, a graduate from the class of 2017, Bodick taught him to follow his dreams, making Bouque realize he could pursue a career on stage. Bouque recounts Bodick's perpetual encouragement and belief in his abilities as one of the major reasons why he is where he is today. Bouque said that he exemplified the perfect mentor.
"[He was] a hard-edged director that always pushed you to be better than your own expectations and held you to the highest artistic standards, and also as a warm and loving friend who would pass hours chatting about fond memories, giving anecdotal guidance and showing genuine compassion and care for his students," Bouque said. "He was never reticent to grow close with his students and took the time to care for each of them individually, a trait that left an enormous impact on each and every kid that walked into his theater."
His theater. It had been Bodick's theater since he started, running the theater program for 33 years and starting the TTE. Trinh Pafford, a graduate of the class of 2019, said it perfectly about Bodick's involvement and importance in the TTE:
"Bodick was the TTE and even though it will never be the same, the TTE students will always make sure to have the love Bodick had for us in theatre forever," Pafford said.
Bodick will forever be an important part of Troy High, in the theatre, in his secluded classroom jutting off from the never-ending hallway, in the TTE and in the lives of the people he touched. There was a candlelight vigil held for Bodick on August 14. A rainbow was hanging up in the sky, as present and past students, dating from the beginning, gathered to remember his life. Across the entrance to the theater, people taped photos of Bodick and themselves and posters from the plays and musicals he produced.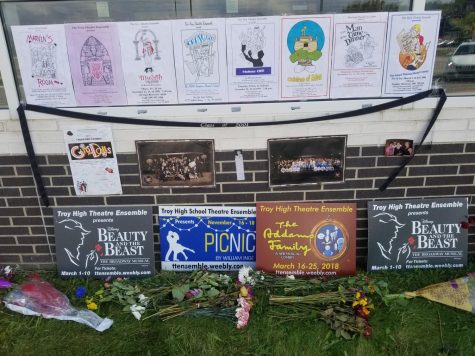 "Bodick, [may be] gone but [he's] never forgotten," principal Remo Roncone said on Twitter about the event. "Thank you for this beautiful final curtain call."
The 2019-2020 school year was supposed to be Bodick's final year before retirement so the spring musical is going to be his favorite musical of all time, "Hello Dolly!" Bodick leaves his legacy with us. Now we have to live it on.
"I think that we should dedicate the show to him and get some reminder of his amazing efforts in the theatre," Gearty said. "I just want him to be remembered at the phenomenal director and person that he was."
Leave a Comment
Your donation will support the student journalists of Troy High School - MI. Your contribution will allow us to print our work, purchase equipment and cover our annual website hosting costs.
About the Contributor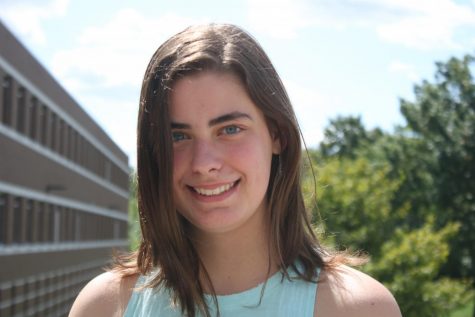 Kaitlyn Piggott, Print Editor-in-Chief
Kaitlyn Piggott, senior, joined The Chariot when she was a freshman as a staff writer and has since climbed the ranks from sports editor, copy editor to now print editor-in-chief. Through The Chariot, she uses her passion of writing to bring a voice to the school and shed light on topics close to her heart. When she is not tirelessly editing stories or working on spreads, she can be found writing her many dystopian novels, reading every John Hart book there is and watching way too much "Supernatural" with her brother.