Looking For A New Hangout Spot? Quickly Boba May Be A Contender.
Quickly Boba Cafe becomes first bubble tea shop in Troy
The first bubble tea shop ever established in the city of Troy, Quickly Boba Cafe officially opened its doors on Aug. 27. With a menu featuring dozens of milky and fruity flavored tea options, Quickly's flavors range from Oreo to the root vegetable known as taro. 
The variety of choices offered was one thing senior Neele Tu, daughter of one of Quickly's owners as well as a current employee, was most looking forward to ahead of the opening. 
"I was most excited about offering…favorites like taro, classic milk tea, green tea and mango, but also unique ones like blueberry, cantaloupe, raspberry, papaya, banana, sour plum kumquat and many more," Tu said. 
"
"They had games and stuff so if you go there with your friends, it'll be fun," "
— Neha Sil, sophomore
Tu says that location is one thing that sets Quickly apart from other bubble tea establishments trying to access the Troy demographic.
"Odds are we're closer to Troy High or your house than the other boba places," she said.
In its first few weeks of business, the Taiwanese chain has already become a gathering place for many students.
Sophomore Micheal Cui first went to Quickly by bike with some friends around a half a month ago. He became familiar with the chain after receiving Quickly branded pens in school. When it came to the menu, Cui was surprised when he wasn't able to recognize everything, despite the fact that he'd had bubble tea in China before.
"There was a lot of stuff [they had] that I didn't know," Cui said. 
His first time going Cui ordered the honey milk tea, but he says it's too soon for him to pick a favorite drink. 
 "I've only been there twice so I still have to figure out what I'm into," Cui said. 
His "must try" flavor for anyone new to bubble tea is the original milk tea. 
 Sophomore Neha Sil, who also recently made a visit to Quickly, said she actually prefers Kung Fu Tea's version of Oreo milk tea. 
"I just think it tastes better, you can actually taste the Oreos [at Kung Fu]," Sil said. "You couldn't taste it as much at Quickly." 
However, Sil still likes Quickly's menu better because of the variety and drink sizes.
"
"Troy needs a boba [place] because it's not a fad, it's here to stay,""
— Neele Tu, senior
"Quickly has big drinks—it's huge,"  she said. "Kung Fu would just have drinks, Quickly had more things like snacks and stuff, so that was good." 
Tu also touched on the menu options Quickly offers beyond bubble tea.
"[We have] yummy food you can eat with your drink, like popcorn chicken, waffle fries, curly fries, cheese sticks and now chicken rice bowls," she said.
In addition, Tu explained the cost differences between Quickly and Kung Fu Tea.
"You can really save on cost compared to other establishments, our medium-sized drink is actually the same size as Kung Fu's large," she said. 
Sil praised Quickly for appeasing to younger audiences. 
"They had games and stuff so if you go there with your friends, it'll be fun," Sil said. 
An important factor for Tu is that people recognize the longevity of bubble tea and how it is something that will continue to be popular in future years. 
"Troy needs a boba [place] because it's not a fad, it's here to stay," she said. "Boba has succeeded for decades in California, the birthplace of many boba franchises in America. So why wouldn't it be able to succeed here?"
Tu's advice to newcomers is this: 
"Experience Quickly for yourself," she said. "Leave a nice review if you're happy. You'll find that you get a lot of drink for your money, and maybe you'll try something unique like rose, honey, Oreo or panda tea!" 
As more and more students have been spotted carrying the tall and slender cups donning the orange logo, the chain has become a go-to, and " I need a Quickly in my system" is "quickly" becoming the new mantra. 
About the Writer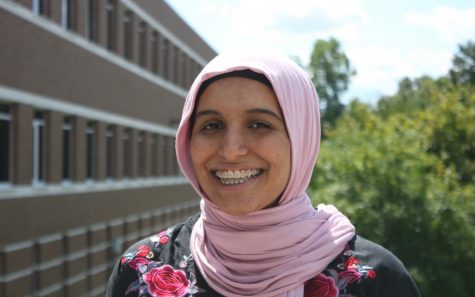 Murryum Farooqi, Body Copy Editor
Murryum Farooqi, senior, is one of two copy editors for The Chariot. Her passion for truth, justice and awareness has been fueled by meeting journalists and her interest in history. Murryum has most enjoyed reviewing local sweet tooth spots, as well as writing about national politics, societal workings and local environmental news. Her love of writing and public speaking have prompted her to challenge herself academically, as well as join various clubs that allow her to practice her speaking and presentation skills. She gets a thrill out of iced caramel lattes, is delighted to whip up a new and interesting dish when she has the time and is always up for a good shopping spree.