Sodexo to Chartwells
School lunch providers change after expiration of Sodexo contract
This year, Troy High has changed the lunch food company from Sodexo to Chartwells. Many students have their own opinion on the switch.

Last year the food provider was Sodexo, a multi-national food service company that provides food for not just schools, but many other places like nursing homes, hospitals and different kinds of businesses. As of this year, Chartwells is the new food service company providing the school with lunches. Chartwells  is also a multi-national food service and currently the most contracted food service in the world.

Many freshmen, like Lillian Schlafhauser, did not know of the sudden change in providers, as they are new to high school.

"I had no idea," Freshman Schlafhauser said. "It's better than Boulan's, but [when compared to food at home] it's not the best, I don't want to say it's not as fresh but that may be the right word."
She continued that the school has a huge variety of food and appreciates how there is always more to try. Schlafhauser wasn't the only one that believes that. Freshman George Magar had similar things to say.

"They have a lot of options and it's just good food," Magar said. "It is for sure better than my middle school food."

Although, if he could change things about it, he would.

"Maybe something a little more special per day," Magar said.

Many students in different grades have had different opinions. Senior Labib Yassa, a student that has had the school lunch everyday, had something different to say.

"I think it tastes the same," Yassa said.

Although Yassa  did not notice the change in the cafeteria, junior Praneetha Ankisettpalli did.

"It tastes completely different but I liked last year's food better," Ankisettpalli said, "Maybe they thought that people would like this more than the previous one."
Ankisettpalli, like many other students, wondered why there was a change this year.

According to Principal Roncone, "There's contracts and I believe that the last one was a three year contract," Roncone said. "The contract had expired, and anytime that contract expires we put a bid out. We had multiple companies bid to try to be our next food service provider."

After the bid, the companies present and the three finalists  for prepare a presentation for the bid committee.

"We felt Chartwells made the best presentation and would give us the best service and a flexible menu to meet our really diverse appetites that we have here at Troy High," Roncone said. "I think it's most important to talk to students about what their experiences [have been] and so far most have said they've liked the food better or they haven't noticed the change."

Many students have begun to wonder why the salad bar and cooking demonstrations haven't been open at lunch, and if it has anything to do with the new company.

"Those things are coming, it just takes a little time, but we will get there," Roncone said.
About the Contributor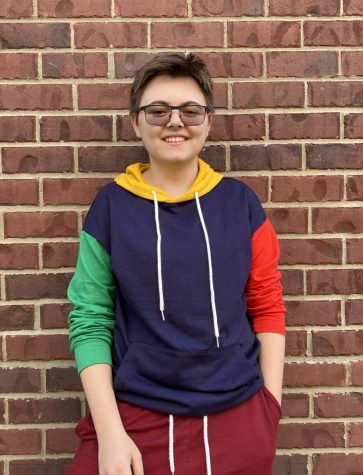 Andy DeGrand, Editor-in-Chief
Andy DeGrand, a senior, joined The Chariot when she was a junior as a staff reporter and is now print editor-in-chief. Since joining, she has learned to work better as a team and now has the opportunity to be a leader. She has used the past year to express her love for writing as well as discussing topics many other students want to bring into the spotlight. This year, she is excited to lead The Chariot into success while learning as much as she can along with his team. She is also eager to help more students learn to love writing as she did. During her free time you can find her walking her dogs, playing Minecraft with her friends, or binging the same shows over and over again...that is if she's not busy being a practice dummy for her younger brother when she is practicing jiu jitsu.