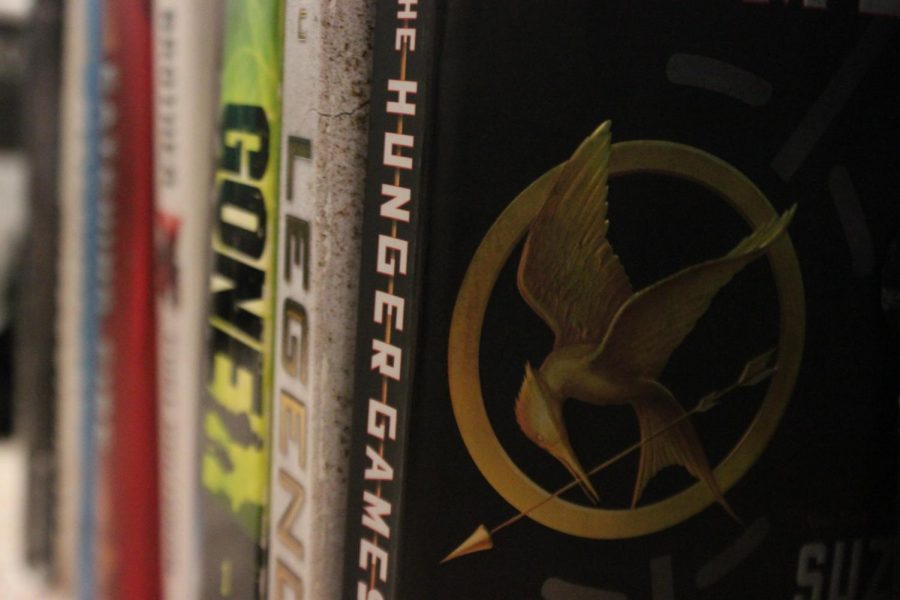 Down with Big Brother!
Dystopian novels are an important part of society mostly amongst young adults, yet one has to question the impact made.
December 16, 2019
Poverty. Death. Weapons. Adults are unavailable and unreliable. Teens are the only people who can save the world. Dystopian novels have become an integral part in young adult literature. Readers are transported into dark, cruel and unruly worlds: the society in "Lord of the Flies" of distress among savage boys, Ember, from "City of Ember," the ailing city of limited electricity, the nation in "The Giver" where one boy holds the memories of all good and evil, Panem the poverty-stricken, war-driven and children-killing country from "The Hunger Games" and in "Divergent," separate systems exist in which different is dangerous.
Most people view Aldous Huxley's "Brave New World," and George Orwell's "1984," as the first dystopian novels of all time. Dystopian novels fluctuate in popularity through the years, but since this first introduction, many people are captivated by the genre. During one of these influxes, literary scholar Chad Walsh examined the future of stories.
"A decreasing percentage of the imaginary worlds are utopias," Walsh said. "An increasing percentage are nightmares."
Media Specialist Toni Isaac defines dystopian as "a society where they have tried to create a perfect world in a way that ends up being bad on a whole new level."
She sees that students are intrigued by these types of books, which she accounts to the immense amount of action and thinking involved.
"Since today's youth are the ones most often reading dystopian novels and they are tomorrow's leaders, I hope [dystopian novels shape] their world view to recognize some of the social issues we are grappling with today and have creative, viable solutions for our future," Isaac said. "Hopefully, the reader is made aware of issues that they had not really thought about before and spent some time thinking about ways that the world could be made a better place without the dramatic consequences foretold in the novel they are reading."
Unlike Isaac, Jill Lepore, a staff writer for The New Yorker and a history professor at Harvard University, has a more pessimistic view on the genre. In an opinion article published in The New Yorker called "The Golden Age for Dystopian Fiction," she examines why people are drawn to books with dystopian societies.
"Every dystopia is a history of the future," Lepore said. "Dystopia used to be a fiction of resistance; it's become a fiction of submission, the fiction of an untrusting, lonely, and sullen twenty-first century… It cannot imagine a better future, and it doesn't ask anyone to bother to make one."
Isaac sees more hope in dystopian novels. She says that authors examine and take inspiration from the world around them. Therefore, she believes the novels are a commentary of the world in which they reside in. Yet, she doesn't believe the characters are an accurate representation of people.
"I am not sure that most young adults (or people in general) are really as fearless as the heroes/heroines are in the novels," Isaac said. "It is fun to imagine you that would act so courageously in similar circumstances and that is what makes these books so appealing."
Freshman Avril Yu sees the characters differently. She notices that the plots are normally driven by a "small protagonist," as she says, who notices the issues with the world around them.
"I think that all of the characters in the dystopian novels all reacted very realistically into the situations that they were thrust in," Yu said. "None rose up with an immediate solution once they saw where the problem lay. [Protagonists have] a trial to bypass, and they do so in a genuine, human way, which is what makes the books what they truly are."
To Yu, characters that readers get attached to and love are what make a book good. As for the plot, like Isaac, she believes it stems from the world the writer sees.
"[Dystopias take] something that is wrong with the world and intensify it to really draw the attention of audiences to it, and to use the story almost as a platform to inform others," Yu said.
So, if these novels are a commentary of the world, one has to question what these novels mean. One has to think about the strength of the teenage Katniss Everdeen as she betters a nation that never helped her, the willingness to learn and curiosity of Jonas, the newly recognized Giver, the intelligence and fearlessness of Lina Mayfleet and Doon Harrow as they save their beloved city of Ember, the leadership of young Ralph when he clings tightly to civilization, the power of Tris Prior as she embraces being divergent, but most of all Winston Smith's ability to see past all the bleakness of Oceania and wish for something better as he scribbles "Down with Big Brother!"
So, the next time one reads a dystopian novel, as Isaac says, think about the meaning underneath the destruction and then draw a conclusion of what could come and what to do about it.