Have A Rockin' Holiday!
Every year, the holiday season seems to appear when Halloween ends and November begins. Local radio stations such as 98.7 and 100.3 start the holiday music on Nov. 1. Seeing as the holiday music played is mainly the old school originals or overplayed pop covers of songs that have been around for years, many people may expect it and get sick of it quickly. When people get absorbed in what they already know, some pass over the other less-publicized songs by less-recognized artists in different genres.
In 2013, Fearless Records released an album titled "Punk Goes Christmas." This album featured many of the classic holiday songs covered by 12 bands and artists with some original songs as well. Man Overboard's cover of "Father Christmas" — originally by The Kinks — is regarded as a popular Christmas song. Though this album did not spark the release of holiday songs in the "punk" genre, it did put a twist on a handful of classic holiday songs many people know and love.
Although covers are not a bad thing, when a new band who has a completely diffrent style of music than the original artist, covers a song, its a new perspective on a classic holiday song. This can be seen in "This Christmas" by The Summer Set. Originally performed in 1970 by Donny Hathaway, an American Soul artist, this song has been covered countless times. The Summer Set, an American Rock band from Scottsdale, Arizona, had the ability to bring two very different genres of music together. While still holding all the sentimental value of the original, the cover brings it to the attention of a new generation.
"I feel more inclined to listen to music in a genre that I personally enjoy compared to what the radio plays nonstop October to January," senior Jackie Miller said.
Plenty of original holiday songs have been released over the years by artists who don't fit into the holiday artist category nor the pop punk category. Lineah's 2019 release "Seasons Greeting"is one such example.
Songs with lyrics about the holiday time without actually mentioning a holiday is another sub-category. "December" by Neck Deep is an example in this case. The lyrics from the song —"I'm the last thing you'd remember. It's been a long, lonely December"— never mentions Christmas in any way, but has a similar impact as "Last Christmas I gave you my heart and the very next day you gave it away," from Wham!'s 1984 hit "Last Christmas."
People have always had Michael Bublé and Mariah Carey Christmas covers, and always will, but you can also have The Summer Set, Neck Deep and Man Overboard.
Although bands like Neck Deep and The Summer Set are challenging the narrative behind holiday hits, some people are still inclined to listen to the classics.
"Its good and all, but I would rather listen to the traditional Christmas music if given the chance," junior Maria Croci said.
About the Writer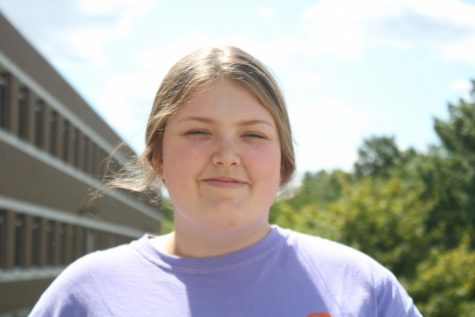 Chloe Collins, Digital Content Editor
Chloe Collins, senior, is the first digital content editor for The Chariot. She has always loved digital and audio media but has never thought to pursue it until now. She loves to watch YouTube, listen to music and go to concerts. In her spare time, you can find her behind the counter at the local Starbucks.