In the Hands of Another
The Chariot brings to light the problem of human trafficking, how to stay safe and what to look out for
February 19, 2020
Human trafficking has been a fear in the back of some people's minds. From a young age, individuals are told to always stick together, never wander off. In recent years, human trafficking fear has increased.
"Human trafficking is often referred to as modern day slavery," the Oakland County webportal on human trafficking said. "It is a multi-billion dollar criminal industry that denies freedom to over 20 million people around the world."
No matter male or female, human trafficking can happen to anyone, at anytime, at almost any location: malls, parking garages, concerts, parks, etc. Some people find that they have to change some of their daily lives in order to feel more safe when going out.
For senior Laila Khan, she found herself in the middle of a human trafficking scam. While at Somerset mall, Khan was approached by a couple. After speaking to them, she was able to walk away without harm. Khan talks about what to be aware of when in the situation she was in.
"If anybody comes up to you talking about 'the light,' the name 'mother' or how God 'sees you,' it is a scam and a ploy to get you alone or get your information," Khan said. "It's always a group of people and mainly a man and a woman will come up to you and start talking about how God sees you and your light. They do this to mark you and the group of people they are with will stand close by. Try not to be alone when in the mall, especially not in the parking lots or garages."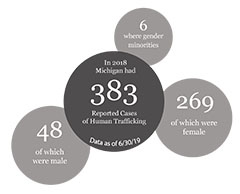 As for junior Lilianna Giuffrida, she doesn't alter her habits specifically based on the risk of human trafficking, but she does it to better her general safety when going out.
"If I'm out at night, I try to park near lights just in case," Giuffrida said. "My parents set a curfew and I have GPS apps on my phone so that someone knows where I am. I don't like places where there isn't a lot of light."
Based off the Human Trafficking Hotlines website, as of June 30, 2019 Michigan had 172 reports by that date in 2019 and 383 reports of human trafficking for the year 2018. Since 2007, there have been about 1,676 cases of human trafficking in Michigan.
When given the information about Michigan's stance on the human trafficking issue, sophmore Rachel Clark didn't just think about herself in an unsafe situation.
"It makes me want to make sure that I keep myself and others safe by letting people know and just make sure people know how to keep themselves safe," Clark said.
Written in a Detroit Free Press article on human trafficking, Ted Docks, the leading FBI agent out of Michigan, talks about one way human trafficking can start.
"The Internet has connected people with perpetrators they may never have met otherwise, and allowed perpetrators to reach into small towns they may never have visited," Docks said.
Statistical information from a fact-based article published on International Labor Association estimates that internationally there are between 20 million and 40 million people in modern slavery or human trafficking today. The average age a teen is put into the Human trafficking ring in the US is 12 to 14 years old. An estimated 71 percent of enslaved people are women and girls, while men and boys account for 29 percent. The risk is out there for anyone.
"It is a very relevant and pressing issue in our lives, way more than we would like to think," Khan said.