Unified Basketball for All
The newly formed basketball team focuses on the inclusion of all students, as athletes commence play against other schools
February 19, 2020
Many students and staff are excited to introduce the newest team that gives certain students a chance that they might not have had before.
According to the Special Olympics website, "Unified Sports joins people with and without intellectual disabilities on the same team. It was inspired by a simple principle: training together and playing together is a quick path to friendship and understanding, while being able to represent their school and community."
History Teacher David Aldinger, newly appointed coach of the Unified team, is excited about the opportunities that the team's creation presents.
"These kids don't have experience with Troy High's athletic program,'' Aldinger said. "To have this opportunity is really exciting. Not only for the kids, but the parents as well to have the feel of people cheering for them."
Assistant Principal DanHouse is enthusiastic for the team's formation.
"It is a wonderful forum for compassion and kindness with a whole bunch of fun mixed in for everyone," House said. "This is such a great event and the community support has been excellent. We had more people in the stands for the Unified game than during the boys' varsity game".
Sophomore Xavier Newell joined the team as a partner who gets to play alongside the other members. There are seven players and five partners on the team. Newell is enjoying his experience so far and loves the connections he is making.
"I've been getting to know people I wouldn't have really talked to on my own," Newell said. "It's extremely fun playing basketball with everyone and it's humbling to see what the athletes go through on a daily basis."
Many of the players are happy to be on the team and to attend a school that offers this opportunity. This change at Troy High is a stepping stone for a future in Unified Sports.
House sees this shift in the sports program.
"It is an amazing display of sportsmanship by both teams and fans," House said. "It gives our students a chance to be on the front stage during a high school event."
Newell feels like the team's structure has every element that any team would.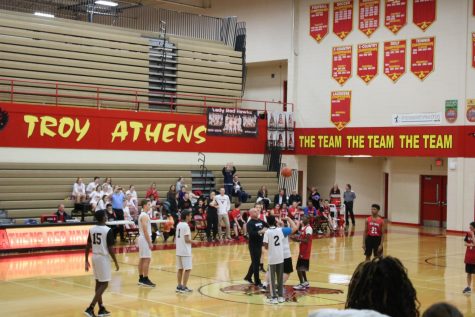 "The team isn't that much different than a traditional basketball team," Newell said. "We still practice, play games and bond as a team like every sports team."
Shane Hynes, the athletic coordinator at Troy High, describes the process behind getting the team together.
"I first learned about it around October," Hynes said. "That was when the athletic director at Royal Oak High School really pushed the idea. From there, we started putting together a team, getting the players as well as the coach, Mr. Aldinger. We started talking about it last year at our OAA AD meetings. We had Special Olympics come in to explain it to us and everyone was on board to do it. It didn't take too long, about a couple of months with getting Mr. Uberti's help, making a team and getting parent signatures."
The teammates can also agree that they are enjoying playing.
"We get a lot of points because we have a good team," senior Jacob Gu said.
As a senior, this is Gu's first experience playing sports in high school.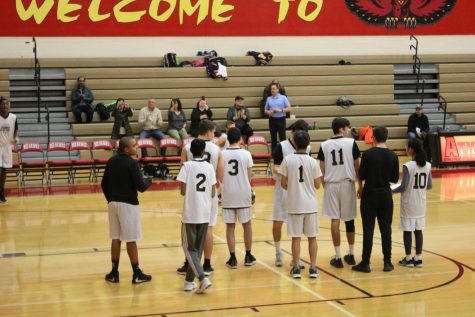 Every student at Troy High deserves a chance to show their talents and abilities to the world. Many are hopeful that the Troy Unified Basketball team could be a building block for future Unified sports teams. The next game will be on Feb. 22 in between the junior varsity and varsity boy's basketball games.