Letters From Teachers to the Class of 2020
Teachers write letters to the class of 2020, as a send off.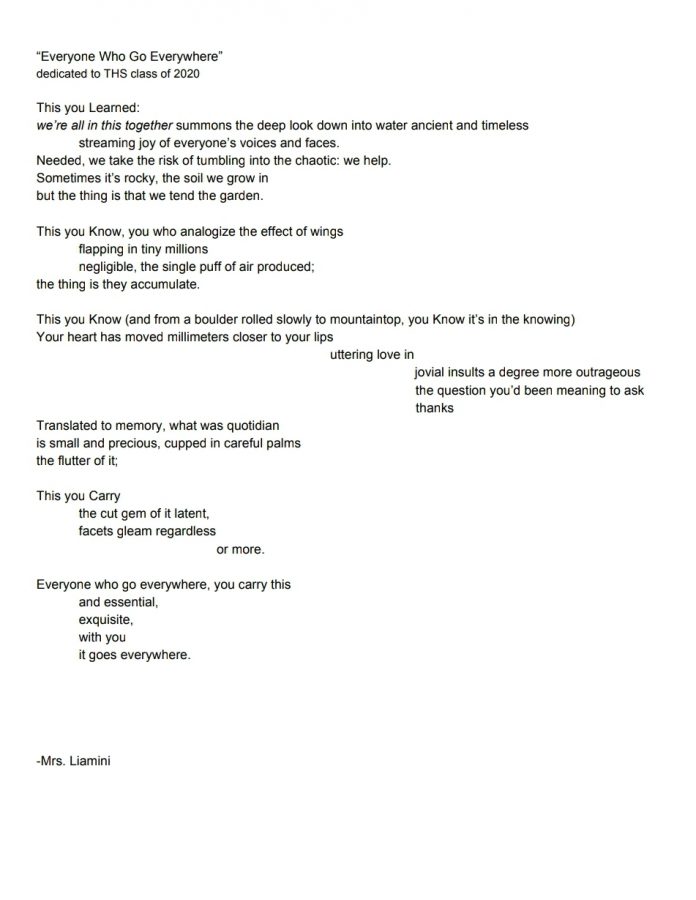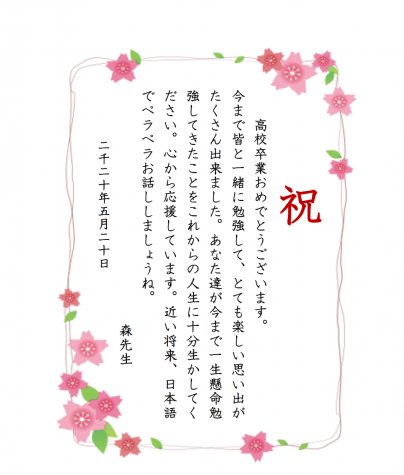 Congratulations, Seniors!  You made it!  I have been honored to work with you for the last four years, and I am confident that you are going to move mountains as you power forward in life.  While the end of your high school career is not quite as full of the pomp and circumstance we all wish you could have, please know that we are celebrating you and all of your endeavors!   You have a beautiful and bright future ahead of you, and it's time that you get that future started.  So celebrate yourself!  Be proud of who you are, and what you have accomplished!  And know that we are so proud of you, Colts.   I will miss you, Class of 2020!  
Be safe and be well.    Ms. Allgeier
MUY Querida Clase de 2020,
Ha sido un GRAN placer conocer y trabajar con Ustedes estos últimos cuatro años. Ojalá que pudiéramos estar juntos para celebrar todos los eventos grandes de fin del año. La señora Forshey y yo, por ejemplo, estamos SÚPER tristes que no hay ningún Prom este año. Pero ahora, como saben, eso no será posible.
Sí, es verdad que terminan su carrera en Troy High de una manera que no es ideal, pero ese NO será su legado. Su legado será su espíritu de generosidad, su positividad y fortaleza ante este desafío enorme y sus talentos sin número. Han dejado su marca en nuestra escuela y nunca desaparecerá.
Espero que sepan que yo, junta con todos sus profesores, estoy con Uds. en espíritu como pasan sus últimos días como Seniors y que les deseo toda la felicidad posible en el futuro. ¡¡Somos TC!!
Con MUCHO cariño,
Señora Tucker
Seniors,
I know that your exit from Troy High is not how you envisioned it, don't be sad, take it with a grain of salt knowing it was necessary to maintain the health of your community. Your future is much brighter than you think. I am very confident that you will all find success greater than you have ever known. Be it in college, in a profession or in your family, you are poised to do great things! To quote a poster in my classroom, always remember, "think big, spend time in the woods, eat plenty of greens, hold your head high, stay on track, keep your nose clean, and it's O.K. to be a little wild!"
Best Fishes,
Mr. Zynda
Dear Seniors of the Class of 2020,
You will always have a special place in my heart, because we are graduating from Troy High together. I know most of you from class, DECA, Rise/Reach, HOSA, and Turning Point USA. I met many of you, while visiting one of my colleagues' rooms during class or between classes. Some of you, I know by enjoying your activity in Student Government, Peer Mediation, band, orchestra, a sport, theatre, dance or cheerleading. I know a few of you, because you work where I like to dine, get ice cream or buy my groceries. No matter how I know you, I'm blessed to have been at Troy High with you these past four years. As we go on to our next adventures, may the spirit of One Troy follow us all the days of our lives.
Sincerely,
Mrs. Stratman
A tous mes chers élèves de l'année terminale, 
Chapeau ! Je suis si fière d'avoir été votre prof de français cette année. Vous avez si bien travaillé et beaucoup appris. En plus, ensemble nous nous sommes tellement amusés ! J'étais vraiment passionnée de vous revoir chaque jour et de continuer à vous aider à apprendre le français et à améliorer vos compétences. Je vous félicite d'avoir réussi haut la main! Vous me manquerez l'année prochaine sans doute pourtant je sais qu'un avenir plein de merveilleuses réussites vous attend. Restons en contact et encore une fois, félicitations à tous ! 
Mme Fortuna 
Dear Class of 2020,
You are a class near and dear to my heart for many reasons. Those of you who went to Schroder, because I remember seeing you at special programs, chatting with your parents at after school pick-up, and hearing about all the ways you enriched the experience of my own daughter, who was one of you. Some of you may have noticed my eyes widen in surprise when you were checking out books at the circulation desk. The surprise was in recognizing you as [the] same person my mind remembers as an elementary student.
To those of you who are my daughter's special friends (you know who you are), thank you for being the loving, supportive group that you are. I will always love you for the ways you showed love to Rae.
To all of you who have worked or volunteered in the media center, know that without you, keeping the media center open and running would have been impossible. Your generosity with your time and talents made each day I spent in the library a pleasure.
And to all of you who challenged me with the difficult research and citation questions, thank you for making me think, grow, and learn new skills. I believe you will make this world a better place and I am looking forward to seeing you find your way as adults.
Much love,
Mrs. Isaac 
Senior Troy United Girls Hockey Players,
Thank you for stepping up and joining the girls hockey team in our first season!  You girls all provided immense leadership in showing your underclasswomen what it's like to be a leader and hockey player!!!  You also provided by example your grit and determination no matter what the scoreboard said…you set the standard for our inaugural season and I can't thank you enough…good luck in your future and all you do.  Keep your skates handy for you are always welcome back to join us at a practice in years to come!
Thank you,
Coach Moceri
Un mensaje a todos los Seniors que he tenido en mi clase de español,
¡Qué año increíble para la clase de 2020! Estoy agradecida de haber tenido la oportunidad enseñarles y conocerles durante tus años en la escuela de Troy High. Cada uno de ustedes es especial. Sigue adelante y continúa ser maravilloso, siempre. Les deseo mucha suerte y mucho éxito en el futuro. Abrazos, Señora Vargas
They say that a person's true character is often revealed during times of crisis or while no one is watching. Us adults, we've been watching and it's been hard not being able to change this situation for you. We know you are missing those you love and care about; your teammates, your friends, your (ahem) teachers; missing the social interaction and missing all of those memories you were supposed to have. I'm here to tell you, WE ARE SO PROUD OF YOU; proud of your adaptability and your determination to make it through this difficult time. Your time at Troy High will be remembered and YOU will be remembered by us. Think of all of the memories made! We will remember our conversations with you, the high fives, the non-stop Tik Tok videos, and how your faces would light up when offered any type of food! I hope we've helped build your confidence and have been a part of helping to shape the person you will become. Should you ever encounter a situation where you need advice, please remember that you have us and we will be here, always. I'll miss your goodbye hugs, but know that I've cherished each one of them and each and every one of you, because as I hope to have helped shape you, I've taken a lesson from each one of you as well. Thank you for allowing me to be your teacher. Now, go show this world how amazing you are!
With Love,
Mrs. Wald
Dear Newspaper Seniors,
Words cannot describe how grateful I am to you for making my transition as adviser of The Chariot as seamless as possible.  I was very lucky to come in and be greeted with a strong group of writers/staffers who were extremely passionate about their roles and the paper as a whole. Whether you were sharing food at deadline days, making silly Spotify requests, or having deep conversations about the road post-graduation, you have made class very rewarding.  I am excited to see the future of the paper, but I will miss you all dearly.  And I will always remember you as my FIRST batch of seniors.
Sincerely,
Ms. Carroll
Class of 2020,
You did it! Not only did you graduate, but you did it during a pandemic! These are tough times, but you persevered and made the best of it. If I've had you in class before, you've been through the extra challenge of learning a new language and becoming comfortable in a new culture while working toward your goal of graduating high school. I'm so proud of you! I hope you know how much joy, laughter, and learning you've brought to me during your time in high school. I wish you peace and happiness in all of your future endeavors! Come back to say hi if you get a chance! You're always a Colt!
Best wishes,
Ms. Rick
Dear 12 AP class of 2020, 
 It seems like yesterday whenI started the year with my story of climbing the 14er (twice) and my mantra: resilience: not giving up.  And you haven't. I feel the loss of the end of our year together profoundly, and yet, I am so proud of all of you for continuing in the face of anxiety, sadness, lethargy, and uncertainty. I hope you remember our time together through The Awakening, Candide, Oedipus, The Stranger, Fences, Othello, Siddhartha and Waiting for Godot with a smile. The debate, the performance, the yoga..the "suffering" of ICEs. And while everything may indeed be "all one story,"  I will certainly never forget ours.  Literature often raises more questions than it answers, but "have patience with everything unresolved in your heart and try to have love for the questions themselves…Live the questions for now" (Rilke).  We don't know what the future holds for any of us. But we can live here in this present moment knowing that true happiness is an inside job and not on the cognitive horizon. You will forever be part of this chapter of my life and for that I am grateful. My parting "advice" to you is another one from Rilke: "that you find enough patience to endure, and enough simplicity to believe; that you gain more confidence in what is difficult, and in particular your solitude. And for the rest, let life happen to you.  Believe me.  Life is right every time" (1904).   -Mrs. Feldkamp
Letter to 2020 Orchestra Seniors
As I sit here alone, again, missing seeing you, missing rehearsing with you, missing performing with you, I can't help but think about all the wonderful music experiences that you are missing this Spring: The Spring trip, the All City Concert, the Concerto Concert, even the Fiddler Auditions that the seniors were always a part of, but mostly, all those rehearsals that brightened my day every morning we were together.
On the other hand, I have such wonderful memories of our time together, everything from String Camp, to the Spooktacular, to the Holiday and Gala Concerts, and to the District Festival, our last performance together. All the orchestras were absolutely outstanding at that performance, and the Symphony performance of the Pines of Rome will go down as one of the best ever by the Troy High Orchestras. I hope we get to see each other again before you take off for what I know will be stellar college careers. I just hope that you can take with you some of the pure joy of making great music together with great friends, which is exactly what we did in our short time together. Take care of yourselves, and each other, and thank you for 3 and a half great years!
-Alan Macnaic
So proud of you my AP Biology seniors (and juniors)! You took on the challenge, embraced the growth, and redefined what really matters, stepping outside of your comfort zone to realize your personal best. Now go out there biologists and save the bees, plant more trees, clean up the seas, and find a cure for COVID-19! 🙂
Much love,
Mrs. Brewer
Hey Seniors,
Remember when you guys were freshmen and the mannequin challenge was a thing? If you had me, you did one for "The Odyssey." Time has seriously flown, hasn't it?
Then I had you again in 11th grade, and people were legit eating tide pods. 
There will be something that defines each time period, and who knows, maybe it will show up in literature (remember, American literature is a reflection of the time it is written). One thing to remember is that things can be defined by something, but PEOPLE can't. We are constantly changing. There is no rule that says we need to be consistent. As we learn, we need to grow and change. If you guys remember "Self Reliance" by Ralph Waldo Emerson, he says, "A foolish consistency is the hobgoblin of little minds…with consistency, a great soul has simply nothing to do." Don't limit yourselves or others by "defining" yourself/them by something, making it too hard to change. 
Seniors…I watched you grow up. From having you in class, having conversations with you in the hall, or watching you in your extracurriculars,  I learned what drives you. That's how I know you will all be ok in life. Just remember that every little thing you do in life matters. Every action has a consequence…the good and bad both have a ripple effect, so spread the good.
Take care of yourself, and more importantly, take care of others. Congratulations Class of 2020. THS is to miss you!
-Nafso
To Mrs. Riolo's 12LC class. As you leave high school and prepare to go on to the next phase of your life, I want you to know how proud I am of each of you. Your resilience, positivity, and pure colt determination in the face of this unprecedented experience has been impressive. You have learned that change is a part of life and how one reacts to change makes all the difference. Watch out for each other, ask for help when you need it and remember, you are never alone. You will always be a part of our colt family. I will miss you. Remember – in a world where you can be anything, be kind.
Seniors,
If you have ever had me in class, you've probably already heard me get on this soap box (along with countless others that waste time…shhh, don't tell).  Don't let anyone tell you that your "generation" is lazy, entitled, addicted to technology, or whatever else it is people tend to say.  You are quite honestly some of the most open-minded, hard-working, resilient, kind, and spirited people on Earth (and speaking of Earth, you also seem to care about that a whole lot, which is going to REALLY come in handy for the rest of us some day).  So, seniors, keep it up!  Keep being you…whatever type of "you" that is.  I have enjoyed meeting so many of you and I really will miss you tons.  However, I know that you're leaving to go do awesome things…maybe in science, maybe in music, maybe in politics, or maybe just in video games for a few months!  Come back and visit, send me a message, just don't forget about me while you're out in the world being a more amazing version of you!      
Love,
Mrs. Robles
To my 3rd + 5th Hour Seniors,
I simply want to say THANK YOU.
Thank you for making this year together one that I will never forget.
Thank you for sharing every pit + peak on Fridays.
Thank you for the privilege of reading your thoughts, hopes, fears, and desires through your writing.
Thank you for being yourselves, and allowing me to be myself with you all.
Thank you for the meme and for the explanation.  (If you know, you know.)
Thank you for trusting me to be your teacher and allowing me to create a classroom where you felt safe and valued.
Thank you for the most epic Mac + Cheese off.
Thank you for the growth I have witnessed in each of you as readers, writers, and thinkers.
Thank you for making me laugh every single day and reminding me not to take life too seriously.
Thank you for teaching me to appreciate sweatshirts with pigeons on them.
Thank you for not complaining (too much) about having to read Hamlet + Macbeth, and for making it fun to learn alongside you.
Thank you for teaching me about resilience and strength in the face of uncertainty because despite everything I have never been more proud of a group of individuals and how you have handled it.
Thank you for filling my heart this week, and this whole year, with so much joy, love, laughter, and happiness.
I am profoundly proud to have been your teacher this year.  Thank you.
All My Love,
Ms.C
Dear Seniors, Talk about a resilience builder! Your strength during this trying time is inspiring and will serve you well in the future. My first year at Troy High was spent with you as sophomores. I taught only Chem 1 that year, so the class of 2020 filled every hour. I hadn't even made it to Homecoming yet but realized my new teaching home would be at THS. You did that. I will never forget your contributions to motivational Monday videos, gas law projects and Harry Potter Mole Day. Don't allow this last semester to dampen your contagious drive, humor and compassion. I've watched in awe of how so many of you endeavored to make Troy High and your community better places. It is time we send you off into the world to do the same. We need your light now more than ever. Keep being awesome and trust in Science! Mrs. Nacy
Congratulations Class of 2020! I am proud of you for working hard all the way until the AP Test. Although it was disappointing not to be able to complete the AP journey face-to-face, I am still looking forward to seeing your great AP scores. You may think you are finally finished with me, but you do have one more unfinished responsibility. You all know for the past 16 years I have had my outgoing seniors sign the pennant in my room of their college choice. As of today, Lokesh is the only senior of the Class of 2020 who has signed his pennant. Do you really want Lokesh to be the sole representative of your senior class on my walls? I mean, Lokesh would be an outstanding choice…an exceptional representative…wake up Lokesh, I'm giving you a compliment…but I really would like to have more of you remembered on my walls forever. This also gives me a chance to see you again, even if it isn't until next year, to say a proper congrats. So at some point, come back to visit and give me a signature. Thanks for a great, memorable year, good luck in everything you aspire to achieve!
Mr Ortwine