"What's The deal With Midterms?"
Students express how they feel about midterms coming up, and teachers share their plans for midterms in a virtual setting.
According to the National Center for Education Statistics, there are over 130,000 K-12 schools that are currently 100% virtual in the United States. Regardless of how students feel about their district's virtual learning plan, they can't avoid that January, the month of midterms, is approaching. 
"My friends and I haven't heard any news on how midterms are gonna be like this year, or if we're even having any," senior AJ Joseph said. "It's hard studying for something us students are out of the loop on." 
Although many students like Joseph are confused or unaware of what their midterms will look like, English teacher Valerie Nafso shares how she is preparing her 9th and 11th grade literature and composition classes.
"For midterms this year, I'm working with the other 9 LC and 11 LC teachers to figure out how to adapt our midterm to fit a virtual setting," Nafso said. "The midterm for both classes is going to look more like an assignment, where students can use their resources to complete it; it is going to do a good job of wrapping up the semester." 
Nafso also explains how her midterms have been and what she plans on changing to adapt to the virtual setting.
"I have always made my finals only worth 10-15% of the grade, and it will definitely be on the lower end this year so that the rest of the work students did this semester counts for the biggest percentage," Nafso said.
Though many students have a wide variety of classes on their schedule, others have multiple classes of the same subject, like Joseph.
"I am currently taking 3 science classes, a math class, English, and Computer Graphics, so most of my midterms are likely to be structured similarly," Joseph said. 
Math teacher Margaret Slankster shares how the math department is also preparing for the upcoming exam season. 
"The midterm plan is that teachers will have an end of the semester assessment, whether it is formative or summative," Slankster said. "Teachers or groups of teachers will decide what is the best form of assessment for their students." 
Like Nafso, Slankster shared what she has planned for her math classes.
"I plan to have midterm exams similarly to what I have done in the past," Slankster said. "In my classes, the midterm (or quarter assessment) will have questions like previously seen ones on unit assessments. The reasoning is that this is what students are accustomed to in my class and what we have practiced."
Slankster also made sure to assure her students that she will not be giving an essay question in her Algebra classes.
Since midterms (whether students want to admit it or not) are coming up, Slankster wanted to share some advice to help students prepare.
"Find time each day to practice math problems and review previous assessments," Slankster said. "And if a teacher ever gives a 'hint, hint, wink, wink' to a problem, write it down."
About the Contributor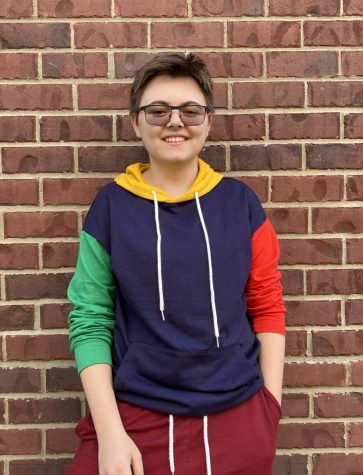 Andy DeGrand, Editor-in-Chief
Andy DeGrand, a senior, joined The Chariot when she was a junior as a staff reporter and is now print editor-in-chief. Since joining, she has learned to work better as a team and now has the opportunity to be a leader. She has used the past year to express her love for writing as well as discussing topics many other students want to bring into the spotlight. This year, she is excited to lead The Chariot into success while learning as much as she can along with his team. She is also eager to help more students learn to love writing as she did. During her free time you can find her walking her dogs, playing Minecraft with her friends, or binging the same shows over and over again...that is if she's not busy being a practice dummy for her younger brother when she is practicing jiu jitsu.