Ice Break (Out rooms)
How teachers are keeping students connected online.
As experts try to predict when the world will return to normal, many students are left feeling disconnected or awkward in school settings. With the loss of many in-person opportunities,  some exceptional teachers are finding ways to keep their students connected during this pandemic.  
Leadership teacher Meghan Riddock bridges the gap of social anxiety by hosting Zoom "hangouts" with her leadership class and Special Education teacher Jeff Uberti's class at the end of each week.
Riddock explains why it's important to have this time to socialize.
 "My students in this time have a hard time socializing since it feels so optional right now, and as far as Uberti's class, this might be the only time they have to interact," Riddock explains. "So by forcing this interaction it can help with a sense of community in Troy High right now."
Mr. Uberti's class expresses their love for the work that Riddock is doing for them. 
"I like to meet new people," senior Justin Stephenson said.
Senior Hyesong Yoon echoes Stephenson on the opportunity.
"I like to talk and socialize," Yoon said. 
But it's not just Uberti and his class who enjoys this time in hangouts. Junior Nadia Khan shares her opinion on this new dynamic of talking with peers.
"I didn't think much of it, I didn't really know what was going on at first," Khan said. "But it was a really good time and I felt like I really got to know and interact with a lot of different people and that was really cool, so I ended up looking forward to it both to talk to them and people in my class."
It is no surprise to many that this new mode of communication is hard to get comfortable with, for teachers and students, but it seems that most of these "meet-ups" could implement positive change.  
Mr. Uberti expresses how much all this means to him and his class. 
"The leadership class created an incredible opportunity during the pandemic," Uberti said. "All of our students were able to socialize and create new friendships in a virtual setting. It's been awesome."
About the Contributor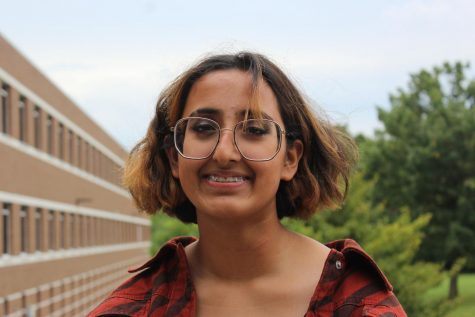 Vanisa Kumar, Business Editor
Vanisa Kumar, junior, is currently starting her second year with The Chariot newspaper as business editor. This year she plans to tread new waters of journalism and explore how far she can go with her writing. As a junior her mission for the year is to create a portfolio of stories she is passionate about sharing and that represent her as an individual. In her free time, she likes to watch Rick and Morty and listen to Drake on blast.