Senior Profile: Lauren Gumma
Basketball is a sport that always has been, and always will be, really close to Lauren Gumma's heart.
Lauren Gumma is a senior who has been playing basketball since she was a kid, and plans to continue being involved in it as long as she can. 
"I think the person who really got me into basketball was my dad," Gumma said. "He played a lot when he was a kid and introduced me into the sport that I now love. My family kept me really involved in a bunch of sports, but basketball was always my favorite, to me it's just the most fun."
For Gumma, basketball has become more than just an expression of athletics.
"The joys of being on a basketball team has to be the bonds and relationships that I create with my teammates and coaches,"  Gumma explained.
While playing basketball and being on a team was a joyous experience for Gumma, it also served as a way to learn many useful skills for her future.
"Leadership definitely has to be the best skill that I have picked up and learned through basketball," Gumma said. "When I was younger, I was more on the shy side and basketball really helped me break out of my shell, take action, and lead." 
Gumma's short term goal for basketball is to play in the NCAA Division 3 at Saint Mary's College next season, while her long term goals consist mainly of her hopes to keep basketball in her life. Gumma plans on pursuing med school, while keeping up basketball in some form. 
"In 5-10 years, I most likely see myself being involved in my community, hopefully finishing up med school, and maybe even coaching basketball, whether that be at a school or AAU," Gumma said. "I always want basketball to be a part of my life, as it has been a big part of me my whole life thus far."
About the Writer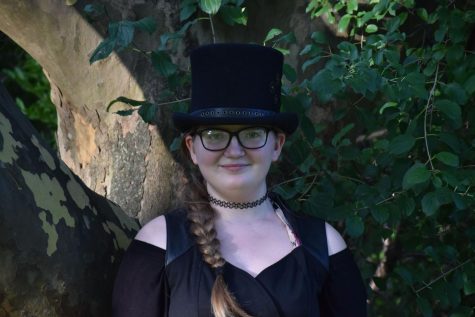 Katelyn Peaslee, Staff Reporter
Katelyn is an 11th grade reporter. Her interest in newspaper lies simply in curiosity, wanting to experience what it was like to work in a real-world esque place and publish stories for the public to enjoy. When not at school, Katelyn likes to create different arts and crafts, such as dreamcatchers, bake, and read.