Spring Sports: Then and Now
Students compare how COVID-19 has affected their sports.
Over the past year, many seniors at Troy High were uncertain whether or not they would get to participate in their final season of high school spring sports. In 2020, many spring sports seasons were cancelled after the  shut down of schools due to COVID-19. 
Senior Sabrina Song, captain of the girls' varsity tennis team, shares her experiences with the new regulations tied to spring sports. 
"Last year we were only able to get through the first week of tryouts in the spring, but school and the rest of the season was cancelled," Song said. "This year our matches have been going on like normal, but there are some limitations that hinder team activities. We can't carpool or eat together anymore and we really have to watch out for social distancing." 
COVID-19 has affected different sports in many different ways. While some sports had little to no modifications, others had to change some of the ways they did things. 
Senior Lauryn Prokup explains the changes COVID-19 has brought to the girls track team.
 "The weirdest way COVID has affected the team is how we run the relays. We had to wear surgical gloves to pass off the baton early in the season," Prokup said. "This requirement has since been lifted, but it was funny to see the team in blue sterile gloves with relay batons."
Now with weekly COVID-19 tests and possible whole-team quarantines, spring sports are started again. 
Lauren Calnen,a senior captain on the softball team, shares her team's experiences with COVID-19. 
"Our team does have mandatory covid testing, once a week we report to the gym where we are instructed on how to correctly test ourselves," Calnen said. "After we swab our nose we have to sit and wait 15 minutes for our results. Honestly, I didn't mind the testing because it definitely gives everyone a little peace of mind on a regular basis. 
Calnen goes on to explain her role as a leader during this difficult year.
"As a senior captain this year, it's definitely challenging to keep the team's energy up as we are all spread out and not in the dugout together," Calnen said. "It is also difficult sometimes to work as a team when there are people out because of quarantine."
Despite COVID-19 challenges and protocols, many senior players are grateful for the chance to compete in their final year of THS athletics. 
"As captain, I'm so grateful that we had a season this year, but it is slightly disappointing not being able to show the girls all the team traditions especially because there are a lot of underclassmen who didn't get a season last year." Song says, "At the same time it's been really fun trying to get creative with team bonding and if anything were forced to get closer since this has been a lot of our major communities since the pandemic. But lastly all the girls who work really hard make it so easy to coordinate everything during this unusual time."
About the Writer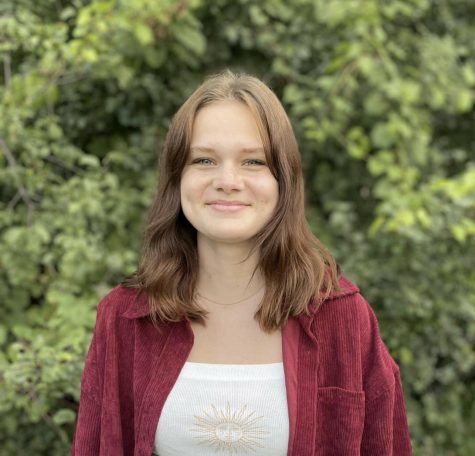 Emma Mertz, Staff Reporter
Emma Mertz, junior, is a third year staff report for The Chariot. In the past, she has written many stories covering current school events. She has received a MIPA Award of Merit for the First Place Audio Interview for her group podcast, "The Asynchronous Push." In her free time, she takes care of her pets and likes to knit.