Exciting Treasure's in Traverse City
A countryside experience in the urban environment of Traverse City
Everyone should be able to experience camping once in their lifetime. Regardless of any season, it is a fun activity to do and it is an amazing experience with many people. Imagine waking up to a beautiful sunrise while taking a short walk on the beach and looking forward to a day full of excitement. Then later, everyone is sitting around a warm campfire while roasting marshmallows late at night. With all the campsites located in Michigan, Traverse City State park offers an all year campground and cabins for one to spend their camping experience.
Keith J Charters Traverse City State Park is located at 1132 US-31 N. Traverse City Mi, 49686.  Not only does the park have a great amount of shade in most of its campsites, but it also has accessible restrooms and showers for all its sites Reservations for this campground should be made six months before the date of arrival and a recreational passport is required in order for a vehicle to enter the state park. Reservations and a picture of each campsite can be found at https://midnrreservations.com/. Please note that many people have raised concerns of the campground being noisy during the day because of the airport near the sites.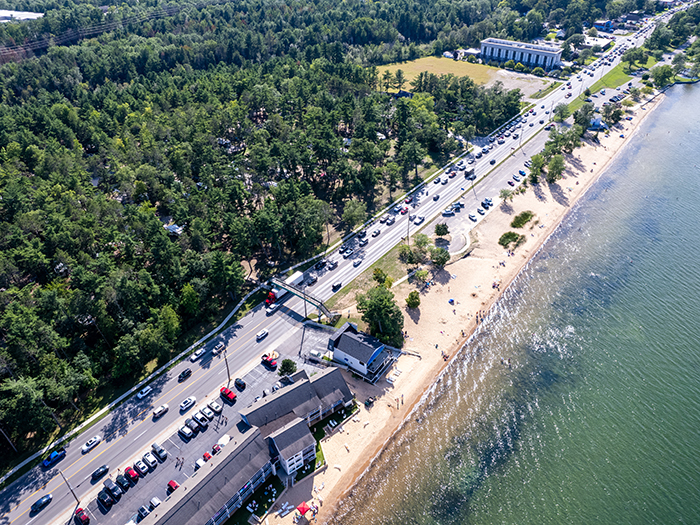 Quarter mile long beach 
One of the greatest sights of the campground is the quarter-mile long beach. It is located east on Grand Traverse Bay, and surrounds lake Michigan. Campers can get there through the overpass. This beach has a small playground and a great view of the sunrise. There is also a place to rent kayaks and canoes to participate in water activities as well.
Sleeping bear Dunes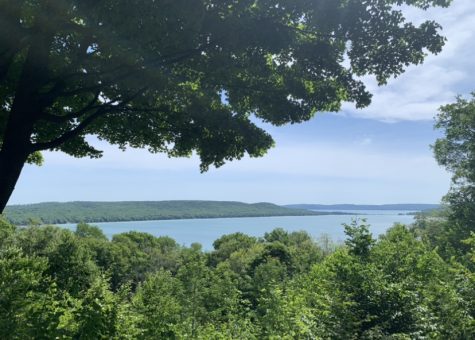 Another popular attraction is the Sleeping Bear Dunes. It comes from an Ojibwa legend where a mother bear and her cub swam across the lake to escape an enormous forest fire. When the mother reached the shore, she hoped that her cubs would make it through. However, after miles of swimming, the cubs drowned and each became north and south of Manitou Island. The spot where the mother waited became the Sleeping Bear Dune.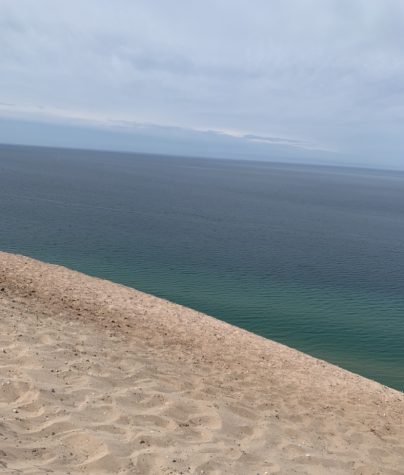 The Sleeping Bear Dunes is a short drive from the campsite and there are three stops to admire the scenic routes of the dunes. It is located at 8500 Stocking Drive, Empire, MI 49630. Many people climb the dunes and there are many trails for hiking. When reaching the bottom of the dunes, there is an amazing view of Glen Lake. It usually takes around three to four hours to climb all the way up, so it would be good for those who have lots of energy and extra time. While it is easy to climb down, make sure not to rush since it can cause tumbling and several injuries. Make sure to watch the slopes since the sand can make it slippery to walk down as well. There is also an observation deck for visitors who don't want to climb or want to get a full view of the lake. More information about this attraction can be found at https://www.nps.gov/slbe/index.htm 
Gallagher's Farm Market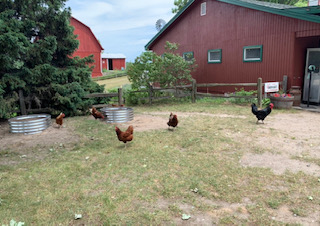 Another attraction is the Gallagher's Farm located at 7237 E. Traverse Hwy, Traverse City, which is on the way back from Sleeping Bear Dunes. It is an incredible spot to admire the scenery and take a break. This farm market sells produce from its garden along with many local farmers. It opens from mid June to October and the hours are from 8 am to 6 pm. During the summer, Gallagher's opens in time for strawberry and cherry seasons along with many other produce as well. Additionally, there is an opportunity for cherry picking, which starts in July. Visitors can also visit the barnyard that is behind the market. Visitors can find more information at https://www.gallaghersfarmmarkettc.com/.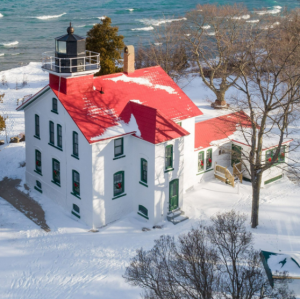 Even during the winter season, there are many activities to take part in too. Many people use the dune climb for skiing and sledding. Along with this, there are other places that are open for exploration. The Grand Traverse Lighthouse is one of the oldest on the great lakes and Visitors can visit the museum's hands-on exhibits. This lighthouse is located at 15500 N Lighthouse Point Rd, Northport MI, 49670. Make sure to check the hours at https://www.grandtraverselighthouse.com/. Another place is shopping in downtown Traverse City. The streets are decorated with stunning lights and there are at least 150 shops to explore too. Downtown Traverse City is located at 303 E State St, Ste C, Traverse City, MI, 49684. 
Camping can be a wonderful way to spend any vacation. With its numerous activities and beautiful sights, spending the summer in Traverse City opens up the opportunity to create unforgettable memories!