A Fistful of Metal – How the Punch Came Back to Hit Us
The revival of metal in the last three years.
 In 1970, Black Sabbath released "Paranoid." Critics hated the pounding drums, dark bass and loud, distorted electric guitar. But the people who loved it went on to form a new genre of music: Heavy Metal. From 1970 to 1991, metal music remained very popular. Then, Nirvana came out with "Nevermind" and grunge overtook metal as the most popular guitar music. Loud, pounding and angry metal was replaced with collected, sad and  intelligent grunge. However, metal has made a comeback recently. From new musicians needing a challenge to "Stranger Things" fans and even people who just listen to music with their parents, metal is the most popular it's been since the release of "Nevermind."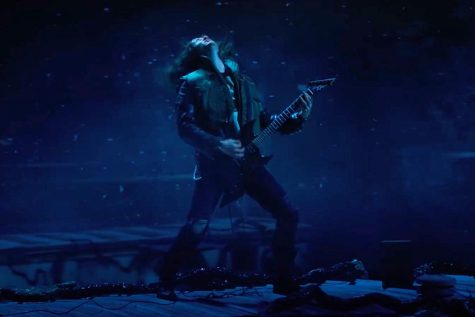 This image may be one of the most iconic moments in metal history. Eddie Munson playing Metallica's nine-minute masterpiece in a sea of monstrous madness. Just this moment got so many people listening to Metallica that Master of Puppets got up to number 44 on the top 100. 
Self-proclaimed "Stranger Things" fan Josie Lido was introduced to metal from her dad playing rock radio stations in the car. Metallica and Black Sabbath are the only metal bands she likes, but she's very impressed by everything she's heard. "It's a very creative way to do music," Lido says.  "It takes a lot of effort to make good metal." 
During the COVID-19 pandemic, many people picked up hobbies like cooking, and bassists got into metal just from beginning to play then got further into the genre as they wanted more of a musical challenge. Sophomore Lucas Negrao is a metal fan and guitar player who goes to Troy High. 
"I first heard Master of Puppets in summer," he said. "I went down a big rabbit hole down the metal genre after that." 
The "Stranger Things" scene was a very influential component in making metal more popular, however those that already played instruments began to be inspired. 
Senior Tee Jay Lewis, one of many influenced by metal musicians, believes "Metal is a ton of fun to play." 
From the chugging riffs of Metallica, complex compositions of TOOL, and the classically inspired songs of Death, all have one thing in common: their power. You can feel it in any speaker it's being played on, any drum set that's being pounded, every bass amp pounding to the beat, and every singer screeching at the top of their lungs. Metal is back, and it's here to thrive.