Lohan's Jump Back to the Big Screen
Review of Lindsay Lohan's "Falling for Christmas."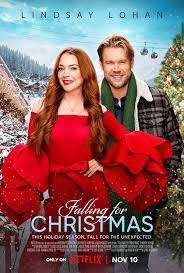 Lindsay Lohan's new movie "Falling for Christmas", directed by Janeen Damian, was released on Netflix on Nov. 10. "Falling for Christmas" is a feel-good romantic comedy that reminds us of the simple things in life and that love, family and community are much more important than how much money is in your bank account. It also highlights how giving to others is the greatest reward of all. Lohan's return to movies after a 10-year hiatus leaves viewers with a smile and gets them into the spirit for the holidays.
Sierra Belmont (Lindsay Lohan) is the spoiled only daughter of a wealthy hotel businessman Beaugard Belmont (Jack Wagner). She's involved with a self absorbed social media influencer Tad Fairchild (George Young). As Tad is proposing to Sierra, they both fall down the mountain side and are separated from one another. Meanwhile, Jake Russell (Chord Overstreet) is trying to find ways to help save his family's struggling resort, the North Star Lodge. Jake's daughter, Avy Russell (Olivia Monet Perez) makes a wish on the wishing tree while a white haired vendor pays close attention to it. While Jake is later giving a tour of the grounds, he finds Sierra unconscious and takes her to the hospital to later find that she has amnesia. Jake and his family open their doors for Sierra to stay with them until she regains her memory. Sierra develops close relationships with Avy and Jake and helps them find ways to help save the lodge. 
Overall, the movie was enjoyable because of the characters' development over the course of the movie, the cozy setting and the relationships between characters. The movie engages Lohan's fans with references from Lohan's past movies like "Mean Girls". You can hear the song "Jingle Bell Rock" by Bobby Helms throughout the movie, a throwback to the music in the iconic dance scene in "Mean Girls".  Though Lohan's physical comedy while doing chores around the Lodge elicits a laugh, the pacing of the movie felt very slow overall. It would get boring during some parts of the movie. I found myself wishing that the story would lumber a bit faster toward the big reveal and realization of true love discovered around the Christmas tree. 
The plot line was predictable and a bit outlandish at times. However, it followed the generic format and story development found in other romantic comedy Christmas movies on Netflix. It was very similar to Netflix's other Christmas romantic comedies like, "Christmas Inheritance" and "Love Hard." These movies give the same feeling and are feel-good Christmas movies. 
Generally, people who like Christmas romantic comedies and romantic comedies as well as Lindsay Lohan fans would love this movie. I would not recommend this movie to people who enjoy or prefer horror or action films. It wasn't particularly memorable or outstanding. However,  it is a light-hearted fun movie that would be great to watch over the Christmas season to get you in the spirit of the holiday season. On a scale of one to five, I would rate this a three out of five because Lohan and Overstreet's acting and dynamics on screen were engaging and entertaining, adding something special to an otherwise generic movie.