Ice Skating Team or Club?
Although figure skating is a sport, at Troy High School it is not.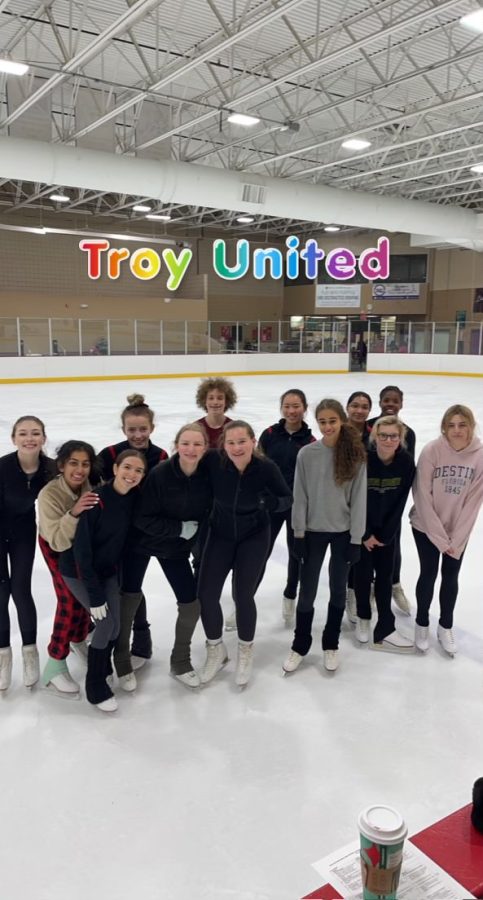 The Troy United Figure Skating team is not a school team. It's not even a club. It is a Michigan High School Athletic Association sport. Troy high does not recognize it as an official varsity sport or club. Although figure skating is a sport at the national and Olympic level, Troy High School does not recognize it as one. Daniel House, one of Troy High School's Assistant principal says, "It's not a club. It's not even an unofficial club". Official clubs are allowed to use school facilities free of charge. However they must always have their advisor present. Unofficial clubs can not use school facilities for events free of charge. They need an advisor at school meetings but can meet without one as well, as long as they are not at the school. 
The high school does not recognize it as an official club because it is not a part of The Collective Bargaining Agreement. The agreement is that to be admitted as an official club your club must fit one of the four values of the school. These include resilience, empathy, responsibility and kindness. It is very hard for to become an official club. Last year the only official club that was added was Black Student Union. Ice skating would not fit the requirements.  
There are some positives to not being associated with the school. Additionally, skaters from different schools can join. The team's skaters come from several areas of schools, including Troy High School, Troy Athens High School, International Academy East, and Henry Ford II High School. Another key difference between most official sports and club sports, is that figure skating is not divided by gender, meaning boys and girls are on the same team. 
Some negatives are that without funding from the school, it is a very expensive sport. According to Junior Figure Skater Katherine Gallihugh, "You [skaters] will have to pay for ice time. It's about 12 dollars a practice." Since all skaters have to pitch in for ice time, ice skating does not cut people because the more people, the cheaper it is. The total cost of ice time is divided equally among team members. So with more members, the cost goes down. This impacts the team by making them have to pay less. 
However, not being a school sport is not the only thing that is interesting about them. They placed high in their league last year. In their league there are 83 teams. Out of those teams 15 went to the state championship. Out of those teams Troy United Figure Skating got fifth place. Even though they are not a sport that is supported by the school last year they were given varsity letters. The team also has a long rivalry with Royal Oak High School. Gallihugh says, "They are always the team we go in looking to beat." Even non school sports have rivals.